Ferguson Fire Summary Timeline
The Ferguson Fire started Friday, July 13th 2018 at 8:30PM, it burned 96,901 acres, or 151.4 square miles (392.1 sq km) of timber and brush west of Yosemite National Park, it was considered fully contained on August 19 after two were killed fighting the wildfire. (Go to Monday, Aug 19th in timeline). The cause of the fire was a catalytic converter, but the person and car responsible have not been found as reported here.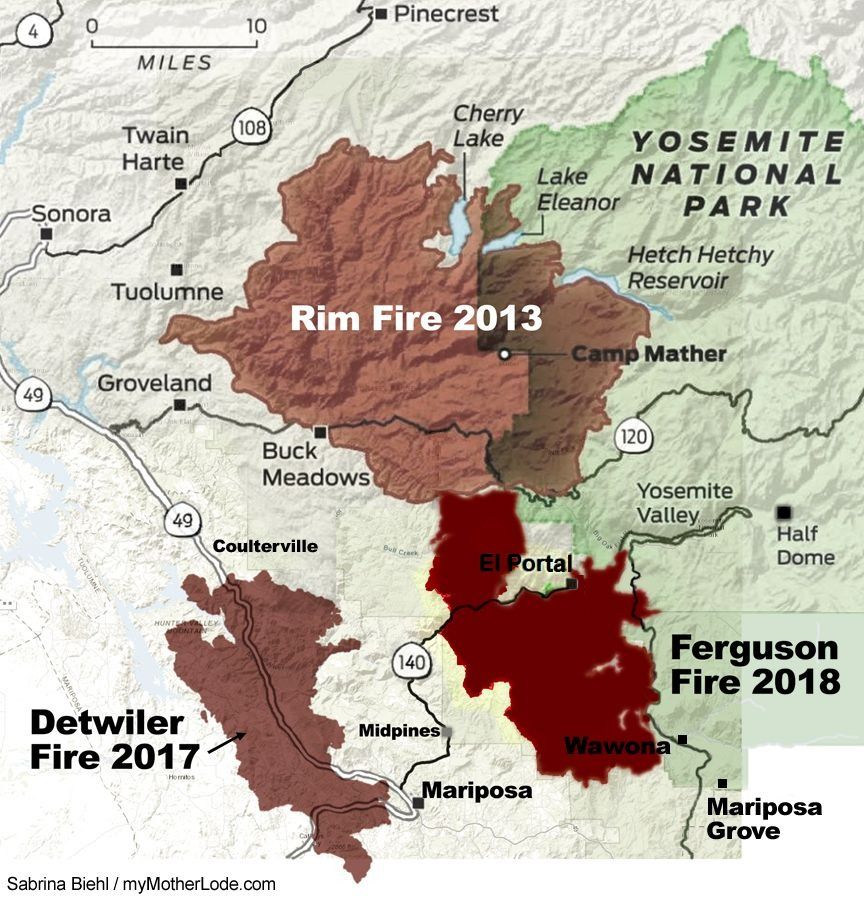 July 13: Ferguson Fire Starts Firefighters started battling the blaze around 8:30 p.m. Friday night. The guests and staff at the two lodgings were evacuated. The flames broke out near the Savage Trading Post and Ferguson Ridge. The first day it was 50-to 60 acres and shut down Highway 140. Before noon it was still reported as holding steady at 130 acres with 5-percent containment.
News of firefighter Braden Varney's tragic death is here. Flags were flown at half-staff on the 14th in honor of the Heavy Equipment Operator who was 36, a 10-year CAL Fire veteran and second generation firefighter. He is survived by his wife Jessica, five year old daughter Malhea and three year old son Nolan.
July 14, Day 2: End of Day update 1,000 acres 5% contained The BLM campgrounds in the Briceburg area are closed until further notice. Mandatory evacuation orders are in place for Savages Trading Post and Ferguson Ridge Road. An evacuation advisory is in effect for Cedar Lodge and the Jerseydale area of Mariposa County. Highway 140 is closed from Cedar Lodge to the top of Briceburg Grade and Incline Road is closed from Briceburg Bridge to the last BLM campground.
July 15, Day 3: From 4,000 acres to 4,310 containment decreased to 2 percent. Engines are in place to protect homes and businesses between the Cedar Lodge area and Hite's Cove. Additional resources are arriving in the community of Jerseydale and Yosemite West to formulate structure protection plans. In the event of continued active growth, contingency fire lines are being constructed along Sweetwater Ridge, south of the fire, and Pinoche Ridge, north of the fire.
There are now 500 firefighters assigned to the incident, and it has been burning in steep and sometimes inaccessible terrain.
Triple digit temperatures are projected in the fire area today with a chance of isolated thunderstorms. PG&E has de-energized power lines in the area, impacting El Portal, Foresta and parts of Yosemite National Park.
July 16, Day 4: The Ferguson Fire is 9,266 acres The Mariposa County Sheriff's Office has issued a mandatory evacuation order for Incline Road from Clearing House to the Foresta Bridge. Community Meeting scheduled. Recovery and procession in honor of Braden Varney.
In the morning: crews have been holding the 9,266 acre fire along Highway 140 in Mariposa County and out of nearby structures in the Devils Gulch and Nutmeg area. New containment lines are being built along Sweetwater Ridge on the southwest flank of the fire. Contingency lines are also being built along the eastern flank to slow the movement towards the community of Yosemite West.
Structure protection engines are staged between Cedar Lodge and Hite's Cove. More engines are being inserted near Jerseydale and Yosemite West. There are an estimated 108 structures currently threatened and around 332 firefighters on scene.
July 17, Day 5: The Ferguson Fire 12,525 acres and 5 percent contained. Power restored to Yosemite National Park. Highway 140 is still closed, the park is accessible via Highway 120 or Highway 41. The fire continues to spread south and east toward Jerseydale, Mariposa Pines and Yosemite West.
Currently there are 1,486 firefighters assigned to the incident. Evening update: the Fire is estimated to be 13,082 acres and still 5-percent contained. Today crews focused on structure protection in areas around El Portal, Yosemite West and Jerseydale. The fire primarily grew to the south and east with most of the growth occurring in the late afternoon when the inversion layer lifted. The fire has been backing down Ferguson Ridge, into the Sweetwater Creek Drainage and behind the Cedar Lodge.
July 18, Day 6: 17,319 acre Ferguson Fire in Mariposa County has 1,850 firefighters assigned, 158 engines, five water tenders, five helicopters, 44 hand crews and 16 dozers. There has been one firefighter death and two firefighter injuries. The end of the day wrap up, spokesperson Rich Eagan "The overnight plan is to continue reinforcing lines along Sweetwater Ridge and to strengthen and improve dozer and handlines constructed during the day." From 9AM to 4PM smoke reached unhealthy levels in Tuolumne and Calaveras.
The resources battling the blaze have increased to 2,149 firefighters, 166 engines, 21 water tenders, 18 helicopters, 55 hand crews and 29 dozers. There has been one firefighter death and two firefighter injuries while 108 structures remain threatened. More from the evening update here.
July 19, Day 7: Ferguson Fire is 21,000 acres and 7 percent containment and a Type 1 incident management team took over operations of the fire, which gives leaders increased priority for resources. 108 structures remain threatened.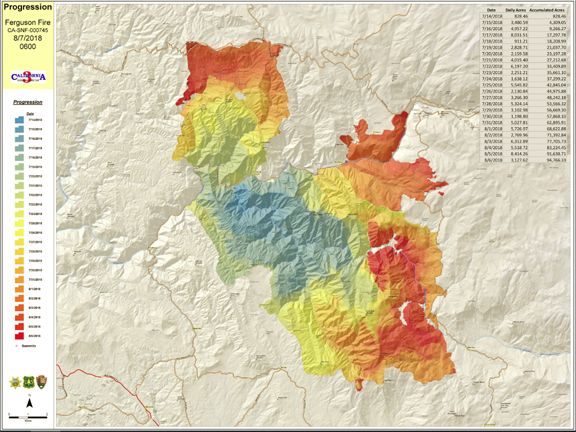 Mandatory evacuation orders remain in place for Incline Road from Foresta Bridge to the last BLM campground, Jerseydale/Mariposa Pines, Cedar Lodge/Indian Flat Campground, Savage's Trading Post and Sweetwater Ridge.
Areas under an evacuation advisory include Yosemite West, Lushmeadows, Ponderosa Basin, Triangle Road, Darrah Road, portions of Highway 49 South, the National Park Service's El Portal Complex, Rancheria Flat housing, El Portal Trailer Court and Old El Portal.
An evacuation center is open at the New Life Christian Fellowship at 5089 Cole Road in Mariposa. At 3:15 p.m. a mandatory evacuation was issued for the El Portal Trailer Court. Yosemite National Park officials have announced the closure of Glacier Point Road at 10 p.m. due to the Ferguson Fire.
Evening update: Ferguson Fire's acreage climbed 500 acres by Thursday night and the number of structures threatened jumped from 108 to 216.
The total acreage is 21,541 while the fire's containment held steady at seven-peercent.
July 20, Day 8: Most recent updates: Slight Overnight Growth On Ferguson Fire 22,892 acres and there remains seven percent containment.
July 21, Day 9: Overnight there was a hike of more than 2,500 acres for a total of 27,129 acres which grew by nearly 2,000 acres to a total of 29,045 acres while the containment, which had held at seven-percent most of the week, dipped to six-percent. Day 9 details are here.
July 22, Day 10: Update: Ferguson Fire New Evacuation Order The blaze grew nearly 1,500 acres overnight to reach 30,493 acres and today the public will get a chance to pay their respects to a fallen firefighter. Structure Threat From Ferguson Fire Explodes, More Firefighters Injured the fire's size grows another nearly 2,000 acres on Sunday to 32,484 acres.
July 23, Day 11: 33,743 acres, current updates here. Incident Command relays that one outbuilding has been destroyed but stress "dozens more have been saved because of the efforts of crews throughout the fire area." This weekend the threat to structures surged from 216 to 3,494 after a mandatory evacuation order was issued for Old Yosemite Road, southwest of the Buck Meadows area in Mariposa County. End of Day: 16 percent contained at 36,102 acres.
July 24, Day 12: Firefighters were able to hold the Ferguson Fire flames overnight to a minimal gain of about 500 acres for a total of 36,587, with containment at 25 percent increasing to 26 percent and 37,795 acres, a gain of just over 1,200 acres.
July 25, Day 13: A new mandatory evacuation has been ordered for the Lushmeadows area that includes the north side of Triangle Road from Visa Lago to east Westfall and the north side of East Westfall to Old Mill and all side roads to the north. The fire is 25 percent contained at 38,522 acres with 727 acres of growth overnight. Visitors have until noon to leave Yosemite Valley and Wawona in Yosemite National Park due to smoke and fire suppression efforts. YARTS bus service is suspended until further notice.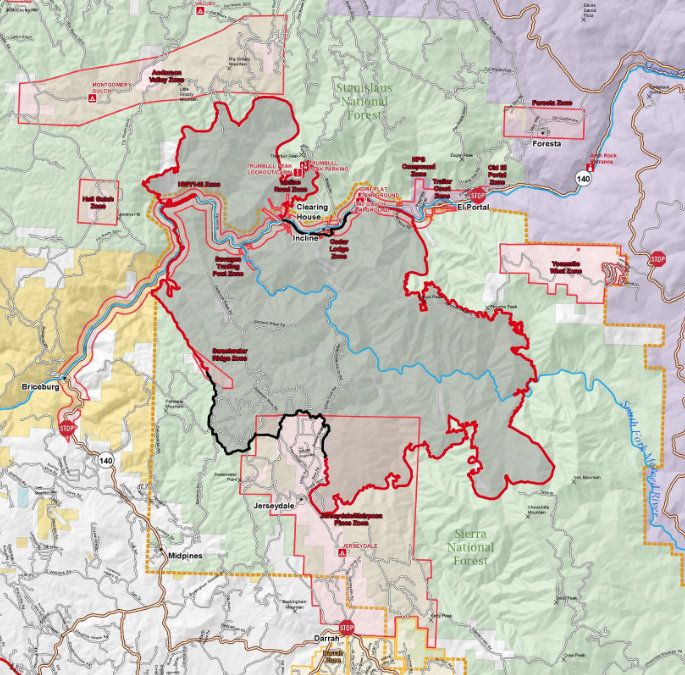 July 26, Day 14: Emergency proclamation for Mariposa County due to the effects of the Ferguson Fire. The fire grew more than 1,700 acres to 43,299 overnight, then burned another 924 acres throughout the day to a total of 44,223 acres as of 6 p.m. Containment remains at 27 percent.
Favorable conditions and light winds out of the southwest helped firefighters redirect uncontained fire back toward the southern perimeter's containment lines. Crews also patrolled containment lines and laid hoses around the community of Wawona southeast of the fire.
Along the north perimeter of the fire, bulldozers and firefighters worked on completing open sections of containment line from Montgomery Ridge east to Pilot Peak and down to Eagle Creek. Crews continue exploring terrain closer to the fire's edge for opportunities to take a direct attack on the fire.
Containment lines along the western perimeter were holding well. A three-acre spot fire crossed over the containment line outside of Jerseydale, but crews were able to quickly suppress it.
July 27, Day 15: Aircraft deployed incendiary devices (fire bombs) to burn pockets of vegetation between the containment line and the fire's perimeter.
On the ground, firefighters are nearing completion of indirect containment lines around the blaze as long as the terrain and weather cooperate, according to Incident Command. Crews worked on hotspots on the western front, explored linking hand and dozer lines closer to the fire's perimeter on the north side. Firing operations were completed from Henness Ridge to the Merced River on the east while crews also worked to link lines between the burn scars from the 2017 Empire and South Fork Fires. To the south, crews worked to prep the area between Round Tree Saddle and Chowchilla Mountain Road for future tactical firing operations.
Current resources battling the blaze include 3,898, 282 engines, 46 water tenders, 16 helicopters, 92 crews and 81 dozers. Yosemite Closures extended.
July 28, Day 16: Ferguson Fire Officials Project Containment Date acreage jumped by nearly 3,000 acres overnight. Residents in the Lushmeadows Subdivision were able to return to their homes. The fire grew by an estimated 2,052 acres. It is currently 30-percent contained and 51,671 acres.
On High Alert For Ferguson Fire acreage jumped by nearly 3,000 acres overnight. Unified Command community fire meeting was held in Groveland at Tenaya Elementary School on Highway 120. Sheriff Bill Pooley; "We've got some trigger points that if the fire should hit those points, it gives us a solid 24 to 48 hours of time to get mobilized. We've already briefed all of our folks on what will do should it hit there."
July 29, Day 17: Captain Brian Hughes, 33, of the Arrowhead Hotshots with the Sequoia and Kings Canyon National Park was struck by a tree and died. His memorial service was held on August 4, 2018 in Fresno, California.
The Ferguson fire is currently 53,646 acres and 30-percent contained and is one of 17 large active fires that have burned a combined 200,000 acres in California. 12,000 firefighters are fighting assigned to fight them. The largest fire is the Carr Fire near Redding that has burned over 89,000 acres and is only 5-percent contained.
July 30, Day 18: Ferguson Fire Nearing Tuolumne County Line
Dozer lines have been constructed, and the burn scar from the 2013 Rim Fire will aid in the firing operations. If weather allows, burning along Pilot Ridge will start today. It is expected to bring more heavy smoke to the region. There are no evacuation advisories or warnings for Tuolumne County.
Near Yosemite, yesterday crews burned a containment line south of the Merced Grove to provide protection for the iconic giant sequoias.
This morning the Ferguson Fire is considered 56,659 acres and there is 30-percent containment. Full containment is anticipated by August 15.
July 31, Day 19: 33-Percent Containment On Ferguson Fire: Crews have made progress further slowing the Ferguson Fire in Mariposa County- it is 57,846 acres.
The fire grew by just 228 acres to 58,074 acres by Tuesday evening. The Ferguson Fire prompted nine forest road closures in the Groveland Ranger District, details are here.
5:15 p.m.: The unhealthy smoke and continued fire suppression efforts in Yosemite Valley and other areas has forced Yosemite National Park officials to extend their closure to August 5th additionally, Hetch Hetchy has been added to the list of closed areas in the park that also includes Wawona Road, the Mariposa Grove of Giant Sequoias and the Merced Grove of Giant Sequoias.
August 1st, Day 20: The Ferguson Fire flames jumped by 4,809 acres overnight to 62,883 and the containment has climbed to 39-percent. Increased smoke is expected today and the next several days due to continuing back firing operations to help strengthen containment lines.
August 2nd, Day 21: Evacuation Advisories Issued In Tuolumne County Due To Ferguson Fire. The CHP reports this morning that Highway 120 is closed at Big Oak Flat Road near the Yosemite National Park entrance.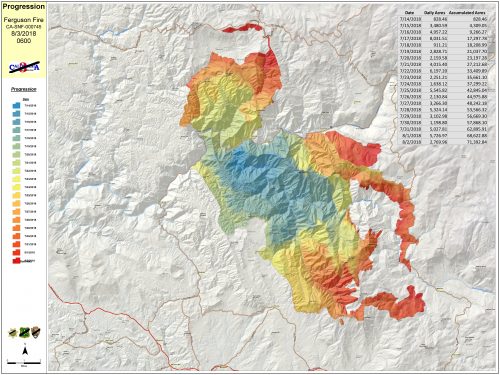 August 3rd, Day 22: The Ferguson Fire grew by 4,120 acres overnight and it is 41-percent contained. The latest size estimate is 73,560 acres. A new incident command team took over operations, the California Interagency Management Team 3, led by IC Mark von Tillow.
Areas of Yosemite National Park, like Yosemite Valley, Wawona Road and Hetch Hetchy will remain closed through the coming weekend.
The Ferguson Fire burning in Mariposa County has jumped by 3,647 acres to a total of  77,207 and remains 41-percent contained this evening. The Mariposa Sheriff's Office has just issued a mandatory evacuation order for several areas along the Highway 140 corridor. They include:
Cedar Lodge
El Portal Trailer Court
Incline Road (from Foresta Bridge to Clearing House)
Rancheria Flat – Government Housing
Savage's Trading Post
Sheriff's officials require that residents use Highway 140 to Mariposa to leave the area.
August 4th, Day 23: The fire climbed another 3,548 acres and hit 80,755 acres while the containment slipped back to 36-percent. Updates are here.
August 5th, Day 24: Yosemite Closed indefinitely, the Ferguson fire surpasses the size of last year's 81,826 acre Detwiler Fire in Mariposa County, and is up to 89,633 acres.
August 6th, Day 25: The Ferguson fire is at 91,502 acres and 38% contained. Grows to 94,331 with details on firefighting operations and updates are here.
August 7th, Day 26: The Ferguson fire is at 94,331 acres and 43% contained. updates are here. Tioga and Big Oak Flat roads — Highway 120 through Yosemite National Park — will reopened at 1 p.m. Big Oak Flat Road remains closed east of Crane Flat to Yosemite Valley. Highway 140 in the river canyon corridor also reopened in the El Portal area with no restrictions, including all homes and businesses between Briceburg and the Yosemite National Park boundary.
Tuolumne County Declaring Local State Of Emergency Due To Wildfires
August 8th, Day 27: The Ferguson fire is at 94,992 acres and 42% to 68% contained. updates are here. Limited Opening of Yosemite Valley.
August 9th, Day 28: The Ferguson fire is at 95,104 acres and 79% contained. updates are here. Yosemite Targets Monday for possible Valley Opening, details here. Red Cross reports on use of their services here.
August 10th, Day 29: The Ferguson fire is at 95,444 acres and 82% contained. updates are here. Incident Commands indicate that the main focus today was the Elephant Rock and Badger Pass areas. They detail that firefighters installed an extensive sprinkler system at the base of rock to reinforce the hand line already in place.
As temperatures rose this afternoon, so did the fires activity along the service road near Chinquapin. Several small spot fires broke out but air support helped ground crews contain them and some flames that went beyond the planned fire line.
August 11th, Day 30: The Ferguson fire is at 95,952 acres and 82% contained.
When the humidity rose and where conditions allowed, crews conducted tactical burning operations along Wawona Road towards Elephant Rock. Firefighters were also able to hold the line in areas where active fire burned during the day on Friday.
As the temperatures rise today, Incident Command projects that the fire will become more active, but they advise that contingency plans are in place to keep the flames from spreading further into Yosemite National Park. Those entail targeting uncontained flames along the Wawona Road, which remains the prime focus of the fire operations.
August 12th, Day 31: The Ferguson fire is at 95,947 acres and 83% contained. Incident Command reports crews are working non-stop to reinforce containment lines  to ensure the fire does not spread into the Yosemite Valley. Firing operations were completed yesterday to Elephant Rock, which is about 1 1/2 miles west of the Tunnel View. There are sprinkler systems in place at the base of the rock to prevent fire spotting beyond the cut hand line. Containment increased on the service road leading to Badger Pass as ground crews were able to stay on top of spot fires and quickly extinguish them when sparked. Those efforts will continue today with crews reinforcing the hand line from Badger Pass northwest to Wawona Road.
The Mariposa Sheriff's office has lifted its evacuation order for Yosemite West due to the Ferguson Fire for residents, employees and contractors needing to clean-up or repair homes and businesses.
The area will then reopen to visitors on Monday, August 13, at 6 a.m., but only for those with reservations. Incident Command reminds the public to take these safety precautions; stay up to date on current fire conditions; obey road closures and any evacuation warnings, stay clear of downed power lines and if any are found contact PG&E immediately. Additionally, treat all trees and poles with deep charring, particularly if still smoking, as hazardous. The same applies to burned residences or out-buildings. Those hazards may include asbestos, heavy metals, by-products of plastic combustion and various other chemicals, according to fire officials.
On the east flank, crews continued to hold and improve fireline from Badger Pass to Elephant Rock. Contingency and emergency lines continue to take hold in the north and east. Suppression repair continues in the Sweetwater Ridge, Jerseydale and Mariposa Pines areas. Firefighters are patrolling the blaze east of El Portal, north of Highway 140, fireline along Forest Service Road 2S20 and on 13 Ridge.  Others are cutting down hazardous trees by roads and containment lines while also monitoring and securing areas.
Incident Command is confident that if future spots or slop overs occur, alternate and contingency lines along with resources can tackle the flames even with the number of personnel falling by 122 firefighters to 1020. Over the next 72 hours, holding, improving and mopping up will continue.
August 14th, Day 33: The Ferguson fire is at 96,606 acres and 86% contained. updates are here.
August 15th, Day 34: Economic Injury Disaster Loan Assistance Program for small businesses impacted by the fires.
August 16th, Day 35: Most of Yosemite Reopened
August 19th, Day 38: The Ferguson fire is at 96,901 acres and 100% contained. updates are here.
Small, nonfarm businesses, small agricultural cooperatives, small businesses engaged in aquaculture and most private nonprofit organizations of any size may qualify for Economic Injury Disaster Loans of up to $2 million for losses associated with the Ferguson Fire. Details are here.
Current 2018 Donnell Fire Summary
2013 Rim Fire Summary and the Calaveras 2015 Butte Fire Summary, also in Mariposa the 2017 Detwiler Fire Summary