Update: Evacuations And Yosemite Area Closures In Ferguson Fire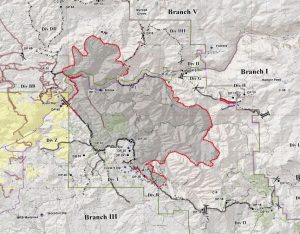 Ferguson Fire Operation Overview 7-25-18

View Photos
This is Day 13 of the Ferguson Fire, more updates are here.
Update at 5:36pm: Slated for tomorrow is another community meeting to update status and operations activities in battling the Ferguson Fire.
The Unified Commanders, CAL Fire, U.S. Forest Service and Mariposa County Sheriff's Office are hosting the session, which will begin at 6 p.m. at the Mariposa Fairgrounds' Sequoia Hall (5007 Fairgrounds Road) in Mariposa.
Ahead of the evening fire report, the wildfire is still being described as 25 percent contained at 38,522 acres. Read on for all the other pertinent information…
Update at 12:30 p.m.:  The last of the campers and visitors in the Yosemite Valley and Wawona in Yosemite National Park have gone and those areas are now closed through Sunday due to smoke and fire suppression efforts on the Ferguson Fire, which is 25-percent contained at 38,522 acres. For details on new evacuations in the burn area below.
Update at 11:10 a.m.: An advisory evacuation notice has been issued for Highway 49 South from Stumpfield Mountain Road to the Mariposa Madera County Line. This includes Kemble, Stumpfield Mountain and  Watt roads. Residents should prepare for the possibility of having to evacuate their homes.
Update at 9:45 a.m.: The Mariposa Sheriff's Office has issued another mandatory evacuation this morning for the entire Lushmeadows and Ponderosa Basin subdivision and a section of Westfall Road.
Officers are currently knocking on doors in the East Westfall Road and Ponderosa Basin area and will continue to work back towards Lushmeadows. However, Sheriff's officials are urging residents to not wait for contact and leave these areas immediately. They include:
East Westfall Road to Chowchilla Mountain Road and all side roads
Entire Ponderosa Basin and Lushmeadows
Triangle Road from Darrah Road in the Lushmeadows area to Hwy 49 South and all side roads Tip Top Road from Triangle Road to Gunther Road including Gunther Road
Road Closures: Triangle Road, from Darrah Road to Hwy 49 south Chowchilla Mountain Road, at Hwy 49 south Harris Road, at Hwy 49 south Tip Top Road, from Triangle Road to Gunther Road All roads inside Lushmeadows Subdivision All roads inside Ponderosa Basin Subdivision
Original post at 7:30 a.m.: Mariposa, CA — A new mandatory evacuation has been ordered for the Lushmeadows area that includes the north side of Triangle Road from Visa Lago to east Westfall and the north side of East Westfall to Old Mill and all side roads to the north. Meanwhile, another firefighter has been injured battling the flames, but no details have yet been released on that person's condition.
The containment dipped back to 25-percent, but just a minimal 727 acreage growth overnight for an estimated total of 38,522 acres. Visitors have until noon today to leave Yosemite Valley and Wawona in Yosemite National Park as those areas will shut down through Sunday due to smoke and fire suppression efforts. That closure is prompting YARTS to suspend bus service until further notice, but not until three buses leaving from the park for Tuolumne County destinations beginning this morning at 10:20, 10:50 and 11:20 a.m.
Another community fire meeting is slated for 6 p.m. at the Greeley Hill Community Center (10332 Fiske Road) in the Coulterville area.