Ferguson Fire Containment Grows, Highway 120 Through Yosemite Reopening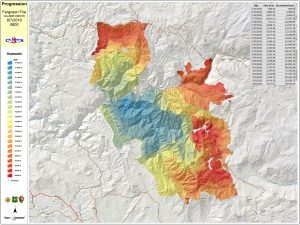 Ferguson Fire Progression Map Aug 7 2018

View Photos
Yosemite National Park, CA — The Ferguson Fire, now in its 26th day, grew another 2,829 acres Monday and is now measuring 94,331 acres with 43 percent containment.
U.S. Forest officials say it is now the largest fire in the Sierra National Forest's history. In this morning's briefing, Fire Suppression Specialist Dennis Burns shared that the raging Northern California Mendocino Complex and Carr fires were contributing to a smoke cap effect on local weather, keeping temperatures from rising, which "cools the fuels," reducing dangerous fire behavior.
Sharing a bit of positive news with regard to access, park officials say that Tioga and Big Oak Flat roads — Highway 120 through Yosemite National Park — will reopen at 1 p.m. However, Big Oak Flat Road remains closed east of Crane Flat to Yosemite Valley. Highway 140 in the river canyon corridor also reopened in the El Portal area with no restrictions, including all homes and businesses between Briceburg and the Yosemite National Park boundary. To view today's incident mapping, click into the image box slide show.
Yosemite, Others Feeling The Impacts 
They note that with it currently being peak tourist season, the closure of Yosemite Valley continues to be very impactful. According to park spokesperson Scott Gediman, the park receives 80 percent of the gate entry fees and Yosemite Hospitality, LLC, a subsidiary of Aramark, which manages the concessions there, including its accommodations and restaurants, has temporarily closed down its operations. He also pointed to impacts on local residents and business, including tourism-based ones in the gateway communities such as Big Oak Flat, Groveland and Sonora.
A large portion of Yosemite National Park remains open. Tioga Road from Tioga Pass to White Wolf is open to all visitors and vehicles. Most of the trails and campgrounds along this route, including the Tuolumne Meadows Campground are open. Visitor services along Tioga Road, including the High Sierra Camps and the Tuolumne Meadows Store are open.
It is important to know that the following areas remain closed at this time: Yosemite Valley; El Portal, Wawona and Big Oak Flat roads; Glacier Point, the Mariposa Grove of Giant Sequoias and Merced Grove of Giant Sequoias; Wawona, Crane Flat and Tamarack campgrounds; among several other sections of the park.
More Evacuations Lifting
This morning, evacuations lifted for Anderson Valley, Hall Gulch and Old Yosemite in Greeley Hill area. Due to the large amount of emergency equipment in the area, speed control is under active enforcement.
Fire Advisement for the following areas have lifted: Highway 140 in the river canyon corridor including all homes and businesses between Briceburg and the Yosemite National Park boundary; El Portal Trailer Court; Rancheria Flat-government housing; Incline Road; River Road from Briceburg to Lake McClure including all campgrounds.
Of the 2,357 personnel currently working the incident, which is being handled as a full-suppression are those assigned to 202 engines, 18 water tenders, 14 helicopters, 39 crews, five masticators and 33 dozers. So far, the incident has caused two fatalities, 11 injuries and ten destroyed structures.
Incident management officials say that firefighters will take advantage of another day of what they describe as moderate fire behavior; the lack of vertical movement of air reducing the wind speed, solar heating, and spot fires. Firefighters have been successful in securing the fire on the southern and northern portions and are working with heavy equipment on large portions of the fire perimeter repairing the containment lines cause by the suppression activities.
More Firefighting Details
A high priority remains preventing fire spread into Yosemite National Park and securing the communities of Foresta and Yosemite West. To that end, hand crews are reinforcing line in the drainage north of Foresta to keep the fire from establishing and crossing containment lines. They are using an extensive network of hoses to bring water to the hot spots with the goal of mitigating the potential for spotting into the drainage.
Similar tactics are being used in the Badger Creek area as firefighters use pumps and hoses to bring water to hot spots near the containment line. Dozers are working to complete the line east of Badger Pass, tying the fire into the 2013 Grouse Fire scare. Crews are now constructing a hand line today from the service road west to Wawona Road/Highway 41. Once completed, this containment line will restrict the southern spread of fire into Yosemite National Park
Tactical burning operation to the north of Yosemite West three days ago was successful at a critical time of erratic fire behavior. Hazards such as rock slides and weakened trees continue to be a challenge for fire personnel along this stretch of road. Structure protection firefighters continue to work in and around Yosemite West. Fire operations along Wawona Road/Highway 41 toward Cascades picnic area will also continue today. Firefighters will patrol along Highway 120 to ensure the fire stays between Wawona Road and Highway 120 and does not spread into the valley.
Fire behavior will decrease as a slight change in the weather occurs. Vegetation is dry and the potential for the fire to spread rapidly remains a possibility. Residents will continue to see smoke and multiple smoke columns. Structure defense specialists and law enforcement remained within the remaining evacuated communities. As communities repopulate, they will be removing hoses, pumps and sprinklers.
For a recap from yesterday, click here.