Update: Ferguson Fire HWY 140 Corridor Evacuations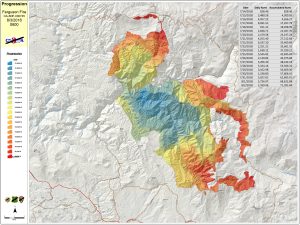 Ferguson Fire propgression map 8-3-18

View Photos
This is Day 22 of the Ferguson Fire, more updates are here.
Update at 6:40 p.m.: The Ferguson Fire burning in Mariposa County has jumped by 3,647 acres to a total of  77,207 and remains 41-percent contained this evening. The Mariposa Sheriff's Office has just issued a mandatory evacuation order for several areas along the Highway 140 corridor. They include:
Cedar Lodge
El Portal Trailer Court
Incline Road (from Foresta Bridge to Clearing House)
Rancheria Flat – Government Housing
Savage's Trading Post
Sheriff's officials require that residents use Highway 140 to Mariposa to leave the area. A Red Cross Shelter remains at the New Life Christian Fellowship located at  5089 Cole Road in Mariposa. Residents needing assistance with large animal evacuation should call the Mariposa County Sheriff's Office at 209-966-3615.
Update at 11:45am: Park employees are being escorted out of Yosemite Valley, and it is related to the smoke, and not increased fire danger.
Ferguson Fire spokesperson Jim Mackensen says, "The park has decided to do a mandatory evacuation of all their personnel, other than essential personnel, due to the smoke impacts. They had a power failure. They have air-scubbers in all of their buildings for their employees, and since they lost power, they no longer have those. In an abundance of caution, and for the health and safety of all their employees, they are having them all leave."
Mackensen emphasized, "This evacuation is not due to the fire encroaching on the valley by any means."
It is unclear how long Yosemite Valley will be evacuated, or what led to the power failure.
Park employees are being escorted out via the Wawona exit.
Original story posted at 7:30am: Mariposa County, CA — The Ferguson Fire grew by 4,120 acres overnight and it is 41-percent contained.
The latest size estimate is 73,560 acres. Despite the growth, crews are making good progress. On the north end of the fire, crews successfully conducted tactical firing operations toward the spot fire off Highway 120 north of the Merced Grove of Giant Sequoias. They also fired westward along Pilot Ridge toward the 13 Road to strengthen containment lines. Big Oak Flat Road in Yosemite remains closed from the Highway 120/Big Oak Flat entrance into the park to Crane Flat. East of the fire, crews connected a containment line to Wawona Road (Highway 41).
They will now progress north along Wawona Road as part of a larger strategy to contain the fire spreading southeast between El Portal and Yosemite West.
This morning at 6am a new incident command team took over operations, the California Interagency Management Team 3, led by IC Mark von Tillow.
Areas of Yosemite National Park, like Yosemite Valley, Wawona Road and Hetch Hetchy will remain closed through the coming weekend.
There are 2,845 firefighters assigned to the incident, 136 engines, 50 water tenders, 14 helicopters, 66 crews and 38 dozers.
Click here to view a Ferguson Fire timeline.