Ferguson Fire Acreage Climbs Along With Structures Threatened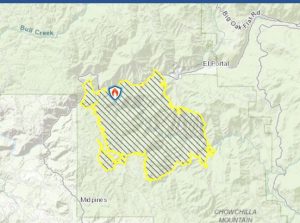 Ferguson Fire map

View Photos
This is Day 7 of the Ferguson Fire, more updates are here.
El Portal, CA – The Ferguson Fire's acreage climbed 500 acres by Thursday night and the number of structures threatened jumped from 108 to 216.
The total acreage is 21,541 while the fire's containment held steady at seven-percent. Fire officials report that the smoke grounded the aircraft for a second day for several hours in the afternoon, but it also helped to keep the overall fire activity moderate. The flames continued to spread north on Ferguson Ridge toward Highway 140 in the Merced River Canyon, across from the El Portal community. That led to an evacuation of the El Portal Trailer Court around 3:15 p.m. on Thursday. Throughout the day, firefighters continued their work to protect homes and businesses in Yosemite West and Jerseydale areas, according to Incident Command spokesperson Jim Mackensen, who adds that the night crews will work on improving containment lines along Sweetwater Ridge and suppression of the flames heading toward Highway 140.
Yosemite National Park officials will close Glacier Point Road at 10 p.m. tonight, as reported here earlier along with the latest evacuations.
The number of resources on the scene has increased to 2711 firefighters, 203 engines, 39 water tenders, 58 hand crews and 41 dozers. Aircraft decreased to 16 helicopters from 18. There has been one firefighter death and two firefighter injuries.
To see the Ferguson Fire timeline, click here. 
A special thanks to our community partner Daniel Beck for sending in photos.