Tuolumne County Declaring Local State Of Emergency Due To Wildfires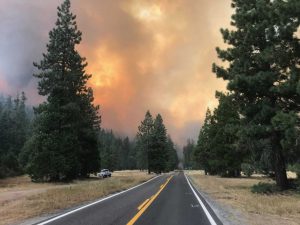 Donnell Fire

View Photos
Tuolumne County, CA — Citing destruction of the Dardanelle Resort, and other nearby structures, along with the Ferguson Fire impacts near Yosemite, Tuolumne County is requesting Governor Jerry Brown sign a State of Emergency Declaration.
Board Chair John Gray tells Clarke Broadcasting that he signed a local state of emergency declaration yesterday, and it will be formally ratified at tomorrow's Board of Supervisors meeting. He notes, "It's really unusual to have two fires going on the two major corridors that go through the county at the same time. We're pretty much shutdown, and we need all the help we can get from every agency to get these fire's out."
Gray adds, "Our newest fire, the Donnell Fire, is in a really bad location, and then late last night we learned that the Dardanelle historic resort has burned down. There are fire personnel up there, but unfortunately there are limited resources, which is the case for all of California in general. We do have fire structure protection at Kennedy Meadows right now. I don't know the status of what is all going up there, but I do know there are more resources on the way."
Giving an update on the Ferguson Fire near Yosemite, Gray relays, "I understand this morning that they have buttoned up the containment line on Pilots Peak, which is important, and that's where they feel they will be able to push the fire back into itself. People are really tired of the smoke, and businesses (Groveland area) are really tired of having no business."
Gray adds that he has been communicating with Tuolumne County Economic Development Authority Director Larry Cope about the potential of USDA funding/loans to help those businesses impacted by the Donnell and Ferguson incidents. Gray notes that the county is "unfortunately" experienced with dealing with catastrophic wildfires, and steps that need to be taken in the aftermath, after encountering the 257,000 acre Rim Fire in 2013.