Cause Determined Of 96,901 Acre Ferguson Fire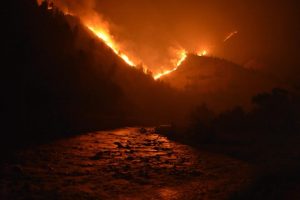 Ferguson Fire

View Photos
Mariposa County, CA — Officials have determined the cause of the 96,000-plus acre Ferguson Fire that ignited in the Sierra National Forest over the summer and burned into Yosemite National Park.
A hot catalytic converter on a vehicle sparked the blaze, according to the US Forest Service. A report from the agency reads, "Specifically, investigators believe superheated pieces of a catalytic converter came into contact with dry, roadside vegetation."
It ignited in mid-July and sadly resulted in the death of two firefighters, Braden Varney and Brian Hughes. In addition, 19 people sustained injuries and 10 structures were destroyed. It prompted the closure of much of Yosemite National Park.
The person and vehicle responsible, however, were not located. Anyone with information should contact the Sierra National Forest at (559) 297-0706. The fire began along eastbound Highway 140 near Savage's Trading Post between approximately 8:00-8:25pm on Friday, July 13.
Click here to view a Ferguson Fire timeline.