Ferguson Fire Acreage And Containment Holding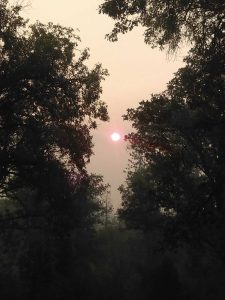 Ferguson Fire

View Photos
This is end of day six coverage of the Ferguson Fire, more updates are here.
El Portal, CA – Fire crews were able to keep the Ferguson Fire's acreage in check even while dealing with heavy smoke and a mixed bag from Mother Nature.
The acreage is holding at 17,319 and the containment remains at five-percent this evening with the flames heading north on the Ferguson Ridge and down into Sweetwater Creek. The incident command team reports that crews had to contend with sizzling temps and thunderstorms that moved in on the east side of the Sierra Nevada, but luckily that did not impact the fire's growth. A major problem was heavy smoke explains spokesperson Rich Eagan, who gave this update, "There was a lot of activity going on in predominately the southwest and southeast region. They were unable to fly any aircraft after 1:30 p.m. because the smoke level. So, they had to basically shut that down. Crews worked to hold the lines in check and trying to keep the fire from spreading."
"The overnight plan is to continue reinforcing lines along Sweetwater Ridge and to strengthen and improve dozer and handlines constructed during the day," details Eagan.
The resources battling the blaze have increased to 2149 firefighters, 166 engines, 21 water tenders, 18 helicopters, 55 hand crews and 29 dozers. There has been one firefighter death and two firefighter injuries while 108 structures remain threatened.
Click here for an earlier story detailing evacuations for the Ferguson Fire.
A special thanks to our community partner Sheena Winkler for sending in the photo.