Update: More Firefighters Injured In Ferguson Fire, Wawona Evacuated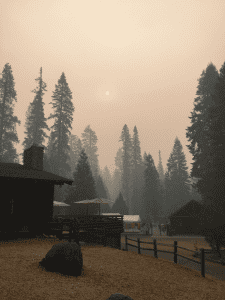 Ferguson Fire from Pinecrest-Lair of The Golden Bear-Camp Blue

View Photos
This is Day 20 of the Ferguson Fire, more updates are here.
Update at 7:45 p.m.: Even with slower growth on the Ferguson Fire burning in Mariposa County, residents in Wawona were forced from their homes tonight and two more firefighters were injured on the front lines.
The flames scorched another 915 acres to climb to 63,798 while the containment holds at 39-percent.  Mariposa Sheriff's Officials issued a mandatory evacuation of the community of Wawona noting it is being done "as a precaution because of the current and predicted fire behavior." To safely exit the area residents must use Wawona Road to Highway 41 as that roadway is remains closed to Highway 140. A Red Cross Shelter remains  open at the New Life Christian Church located at 5089 Cole Road in Mariposa.
Incident Command reports that two additional firefighters were injured since this morning, but did not give their conditions. That brings the total to eleven.  As reported this morning (below), a couple of firefighters were hurt battling the flames Monday night into Tuesday morning. Their injuries and conditions have also not yet been released.
Today, back burning operations were conducted on the north end of the fire around the Merced Grove. Fire officials indicate that if conditions allow, firefighters will continue northward toward Pilot Ridge on the Mariposa-Tuolumne county line. Fire operations were also done along the 30X Road to buffer Yosemite West from the flames which are spreading southeast from El Portal.
The overnight plan is for firefighters to build containment lines from the 30X Road east to Wawona Road (Highway 41), then north to Elephant Rock. Incident Command details that the line will follow Elephant Ridge until it connects with a rocky slope to the west.
A bit of good news, residents in the El Portal Trailer Court were allowed back in their homes tonight, but will remain under an advisory evacuation order. All residents will need to use the entry point on Highway 140 in the Midpines area.
Further fire details including memorial service information for Captain Brian Hughes killed by a falling tree on Sunday and the warning of smoky skies with large plumes over the next couple of days can be viewed below.
A special thanks to community partner Andrea Carroll for sending in a photo.
Update at 4:15 pm: Details are now available regarding memorial service and related activities in honor of the second firefighter who lost his life battling the Ferguson Fire, now in its 20th day.
An official public memorial website has been established in honor of Captain Brian Hughes, 33, of the Arrowhead Interagency Hotshots. The site provides details about his life, where to send condolence letters or contributions and a section for visitor-submitted memories and condolences.
It also provides more details about a memorial service planned for him this Saturday, beginning at 11 a.m. at Valdez Hall in the Fresno Convention Center (702 M Street). Anyone planning on attending should visit the website and RSVP. You can do so by clicking here.
Update at 7:50 a.m.: Incident Command advises that increased smoke is expected today and the next several days due to continuing back firing operations to help strengthen containment lines.
The Ferguson Fire size has jumped by 4,809 acres overnight to 62,883 and the containment has climbed to 39-percent. The high pressure system above the fire is weakening, which will result in warmer and drier conditions, according to fire officials, who add that lower wind speeds and the lifting of the  inversion layer by midday will create taller smoke columns in the skies.
On the burn scar today, Forest Service Natural Resource Specialists will be surveying the western side of the fire to assess areas that will require repair and mitigation once the flames are out.
Resources battling the blaze include 3,558 personnel, 203 engines, 43 water tenders, 14 helicopters, 95 crews, 5 masticators (Mulch machines) and 62 dozers.
To view further details on injured firefighters and Yosmite's extended closures including Hetch Hetchy below.
Update at 6:30 a.m.: The Ferguson Fire flames jumped by 4,809 acres overnight to 62,883 and the containment has climbed to 39-percent. Further details on the blaze including firefighters injured and extended Yosemite closures are below.
Original post at 5:30 a.m.: Mariposa, CA — Air and ground crews continue to make good progress on the flames but two additional firefighters have been injured while Yosemite has extended closures in the park that include Hetch Hetchy.
Two additional firefighters have been injured, one on Monday night and the other yesterday morning, bringing the total to nine, but their injuries and conditions have not yet been released.
Some advisory evacuations have been lifted in the Ponderosa Basin and East Westfall Road. Tuesday the fire grew by just 228 acres to 58,074 acres and holding at 33-percent containment.
Yosemite National Park officials were forced to extend closures for a second time due to heavy smoke and continued fire suppression efforts in Yosemite Valley and other areas including Hetch Hetchy, as reported here yesterday. The areas were to reopen on Friday (August 3rd) but instead park officials will assess the situation on Sunday (August5th) then make a decision. The Yosemite Valley was scheduled to reopen on Friday but that date has been pushed to Sunday. Instead, park officials will continue to assess conditions and reevaluate all closures on Sunday.
This is Day 20 of the Ferguson Fire, more updates are here.