Update: Ferguson Fire Prompts Yosemite Road Closure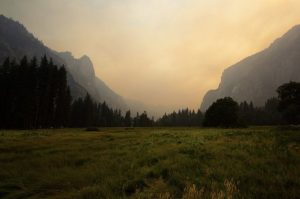 Smoke In Yosemite
This is Day 7 of the Ferguson Fire, more updates are here.
Update at 5:30 p.m.: Yosemite National Park officials have announced the closure of Glacier Point Road due to the Ferguson Fire. The roadway will shut down at 10 p.m. tonight. Additionally, a small base camp for firefighters has been set up at the Yosemite Ski and Snowboard Area (formerly Badger Pass) and Bridalveil Creek Campground, which are also closed to the public.
For a link to the Ferguson Fire daily updates, click here. A special thanks to our community partner Mark Schnell for sending in the video.
Update at 3:15 p.m.: A mandatory evacuation has just been issued for the El Portal Trailer Court. This means residents should immediately leave the area. Fire officials detail that Highway 140 West to Mariposa remains closed and residents will need to use Highway 140 East through Yosemite to exit the area. Motorists are asked to drive with caution and watch for responding emergency traffic. For anyone who may require evacuation assistance due to special needs or medical issues, they are asked to call Human Services toll free at 1-833-423-0816 as soon as possible. A Red Cross Shelter is currently set up at the New Life Christian Church located at 5089 Cole Road in Mariposa.
The public will get an update on the fire at a meeting where the Unified Commanders, US Forest Service, CAL Fire, and Mariposa County Sheriff's Office, along with the National Park Service will have representatives on hand to answer questions regarding the Ferguson Fire. Officials will give a briefing highlighting the current actions that firefighters are taking on the fire along with maps of the blaze.
The meeting will Friday (July 20th) from 3 to 4 p.m. at the Wawona Community Center at 7925 Chilnualna Falls Road in Wawona. Attendees are asked to arrive early as the meeting will begin at 3 p.m. sharp. Questions regarding the meeting are directed to the Ferguson Fire Information Line (530) 377-6221.
The Ferguson Fire is over 21,000 acres and seven-percent contained. Further fire details and previous evacuations are below.
Update at 12:15pm: Heavy smoke is filling the skies again today from the Ferguson Fire in Mariposa County.
Incident Command spokesperson, Jacob Welsh, comments, "The current conditions, all throughout the area, are very smoky. We have a thick inversion of smoke. The good thing about the smoke is that it moderates fire behavior because a wildfire needs air and that's what really drives it and makes it grow, and spread, rapidly. The bad thing about the smoke is that is bad for our health. It is not good for our lungs, especially the young and elderly population.
Smoke also often limits the ability to fly air resources near the fire.
Welsh adds that Highway 140 is the containment line on the north end of the fire. The main priority today is to protect homes around the Jerseydale and Mariposa Pines communities.
Original story at 7:35am: El Portal, CA — A 21,041 acre wildfire burning in Mariposa County is up to 7-percent containment.
The Ferguson Fire continues to be a challenge for firefighters due to extreme heat, steep terrain and unstable weather conditions. Monsoonal moisture is expected to continue to move through the area for the next few days bringing the possibility of afternoon thunderstorms and erratic winds. This morning a Type 1 incident management team took over operations of the fire, which gives leaders increased priority for resources. 108 structures remain threatened.
Mandatory evacuation orders remain in place for Incline Road from Foresta Bridge to the last BLM campground, Jerseydale/Mariposa Pines, Cedar Lodge/Indian Flat Campground, Savage's Trading Post and Sweetwater Ridge.
Areas under an evacuation advisory include Yosemite West, Lushmeadows, Ponderosa Basin, Triangle Road, Darrah Road, portions of Highway 49 South, the National Park Service's El Portal Complex, Rancheria Flat housing, El Portal Trailer Court and Old El Portal.
An evacuation center is open at the New Life Christian Fellowship at 5089 Cole Road in Mariposa.
To read an earlier article detailing health concerns regarding the smoke, click here. 
To see the Ferguson Fire timeline, click here.