Update: Ferguson Fire Nearing Tuolumne County Line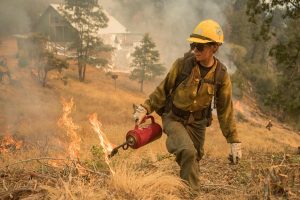 A Tahoe hotshot lighting during burn operation on Ferguson Fire

View Photos
This is Day 18 of the Ferguson Fire, more updates are here.
Update at 1:40pm: Governor Jerry Brown has ordered flags at the State Capitol lowered to half-mast in honor of a second fallen firefighter assigned to the Ferguson Fire.
Brown also issued the following statement regarding the death of National Park Service Fire Captain Brian Hughes, who died after being hit by a tree in the incident area where he was assigned.
"Anne and I are deeply saddened to hear about Captain Hughes' death and extend our condolences to his family, loved ones and fellow firefighters, who are still out in the field protecting lives and property. We are incredibly grateful for Captain Hughes' service to our state and nation."
Hughes, 33, of Squaw Valley, died Sunday. He was a Fire Captain of the Arrowhead Interagency Hotshots out of Sequoia and Kings Canyon National Parks.
Original Post at 7:29am: Mariposa County, CA — Officials battling the Ferguson Fire will begin tactical firing operations along Pilot Ridge, just south of the Tuolumne County line.
The main body of the fire is still just over a mile away from Tuolumne County and four miles from Highway 120, according to the incident command team. Earlier an attempt was made to contain the fire on the Soapstone Ridge in Mariposa County, but crews had to back up as fuels and topography created dangerous conditions. The new plan is considered the safest way to contain the fire along its northern edge. Operations personnel have done extensive prep work to ensure that the fire remains south of the Tuolumne County line. Dozer lines have been constructed, and the burn scar from the 2013 Rim Fire will aid in the firing operations. If weather allows, burning along Pilot Ridge will start today. It is expected to bring more heavy smoke to the region. There are no evacuation advisories or warnings for Tuolumne County.
Near Yosemite, yesterday crews burned a containment line south of the Merced Grove to provide protection for the iconic giant sequoias.
This morning the Ferguson Fire is considered 56,659 acres and there is 30-percent containment. Full containment is anticipated by August 15. Areas of Yosemite National Park closed due to the fire are expected to reopen this coming Friday as good progress is being made near El Portal and Wawona.
There have now been two firefighter fatalities. Click here to view an earlier story from yesterday.
To view the latest warning regarding air quality, click here.