Community Events
The myMotherLode.com Events Calendar is for events and fundraisers important to our community. If you have an event to list in our Event Calendar, view our event submission form guidelines here.
For a list of wonderful annual events planned each year in the Mother Lode visit our annual events page. For other community information such as local clubs, transportation and government services visit the Community Guide.
The park has implemented the lottery system, which will allow campers to apply for a camp site for next year.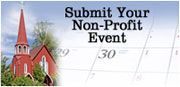 If you are a non-profit organization in Tuolumne or Calaveras County who does not spend dollars in other mediums to publicize your event, please fill out the event submission form.
Events will be posted in 1-2 business days on myMotherLode.com, we reserve the right to edit for space. If you have further information or a correction for an event, submit it through our feedback form here and the moderator will be notified.
For a list of the wonderful annual events that happen each year in the Mother Lode visit the annual events page.