Update: Structure Threat And Acreage Hike In Ferguson Fire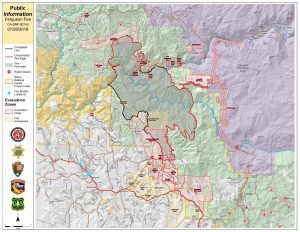 Ferguson Fire 7-26-18

View Photos
This is Day 14 of the Ferguson Fire, more updates are here.
Update at 6:44 pm: The Ferguson Fire grew 924 acres throughout the day to a total of 44,223 acres as of 6 p.m. Containment is at 27 percent.
Operations Section Chief Jeff Cagle was Friday's KVML "Newsmaker of the Day".
CAL Fire officials report that firefighters took advantage of calm winds and hazy skies from a persistent inversion layer to widen containment lines through tactical firing operations.
Firefighters burned vegetation from containment lines back toward the fire to expand buffers around the communities of Yosemite West and El Portal along the fire's northeast perimeter. Meanwhile, favorable conditions and light winds out of the southwest helped firefighters redirect uncontained fire back toward the southern perimeter's containment lines. Crews also patrolled containment lines and laid hoses around the community of Wawona southeast of the fire.
Along the north perimeter of the fire, bulldozers and firefighters worked on completing open sections of containment line from Montgomery Ridge east to Pilot Peak and down to Eagle Creek. Crews continue exploring terrain closer to the fire's edge for opportunities to take a direct attack on the fire.
Containment lines along the western perimeter were holding well. A three-acre spot fire crossed over the containment line outside of Jerseydale, but crews were able to quickly suppress it.
Current resources assigned to the incident — Engines: 261 Water Tenders: 55 Helicopters: 16 Crews: 93 Dozers: 79 Total Personnel: 3,821
Again, Yosemite National Park officials enacted closures Wednesday for the Yosemite Valley and Wawona areas as well as the Mariposa Grove of Giant Sequoias.
The "Newsmaker of the Day" is heard every weekday morning at 6:45, 7:45 and 8:45 on AM 1450 and FM 102.7 KVML
Update at 4:20pm: Governor Jerry Brown just issued an emergency proclamation for Mariposa County due to the effects of the Ferguson Fire, which has threatened homes and critical infrastructure and caused power outages and the evacuation of residents.
Earlier today, he issued emergency proclamations for Riverside and Shasta counties due to fires in those areas.
Update at 12:05pm: Ferguson Fire officials are planning their first community meeting in Tuolumne County before week's end.
Tomorrow, beginning at 6 p.m. the Unified Commanders, CAL Fire, the U.S. Forest Service and Mariposa County Sheriff's Office will host a session in Groveland at Tenaya Elementary School (19177 Highway 120) to discuss the current fire situation, provide an operational overview and answer questions.
Update at 7:30 a.m.: The latest figures are in for the Ferguson Fire this morning as overnight the acreage grew more than 1,700 acres to 43,299 with containment inching up to 27-percent.
Incident Command reports that firefighters and bulldozers worked to halt the spread of flames that jumped over existing containment lines near Magoon Creek along the southern front the previous morning. Crews were also successful in completing lines around the community of Wanona on the east side and between the Five Corners area and Pilot Peak. Meanwhile, crews worked to dig a suppression line from the boundary of the Stanislaus National Forest to the fire's perimeter.
"Firing operations helped to expand the width of the containment line protecting El Portal to more than 500 feet in some areas," according to Incident Command.
For further details on the jump in structure threat, evacuations, advisories, highway and road closures below.
Original post at Mariposa, CA — A mixed bag overnight for the Ferguson Fire. The number of structures threatened skyrocketed with a combination of evacuations and increased fire activity due to a dry air mass that moved in yesterday and remained overnight keeping the humidity exceptionally low,  according to Incident Command. That forced evacuations in the Ponderosa Basin and Lushmeadow areas, but there was also some good news as an evacuation was also lifted.
The flames scorched more than 3,000 acres, shooting the fires size to 41,576. The containment inched back up to 26-percent. Residents in the Jerseydale and Sweetwater Ridge Road area were allowed back into their homes last night. No one else is allowed in the area.
Elsewhere, along the fire's perimeter, firefighters worked to complete a containment line from the Merced River north along Montgomery Ridge to tie into the burn scar left by the 2013 Rim Fire. Crews also worked to complete a containment line between Eagle Peak and El Portal along the northeast portion of the fire.
Yosemite Valley and Wawona at Yosemite National Park remain closed to visitors through Sunday due to firefighting operations.
Slated for Thursday evening is another community meeting to update status and operations activities in battling the Ferguson Fire. The Unified Commanders are hosting the session, which will begin at 6 p.m. at the Mariposa Fairgrounds' Sequoia Hall at 5007 Fairgrounds Road in Mariposa.
Resources on scene include: 3,686 personnel, 241 engines, 47 water tenders, 18 helicopters, 94 hand crews and 63 dozers. You can get all other pertinent details, including evacuations, advisories, highway and road closures all in the full story on mml.com.
A special thank you to community partner Jen Just for sending in a photo.