Dining Guide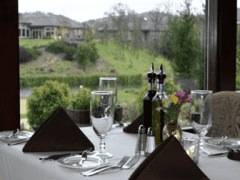 Saddle Creek Golf Resort 1001 Saddle Creek Dr Copperopolis, CA 95228
You don't have to be a golfer to experience fine dining at the Copper Grille. For more than 20 years, the Copper Grille has been a favorite for diners with discerning palates. This award-winning golf and lakeside venue continues to raise the bar with a new chef, a new menu and a fresh look with newly renovated interiors. In fact, Saddle Creek Golf Resort is undergoing its own transformation with new ownership, new management, and a new name – The Golf Club at Copper Valley.
Executive Chef Christopher Cox and his culinary trained staff take advantage of the on-site garden that provides fresh herbs and vegetables for the American Contemporary cuisine. Menus and hours change seasonally, bringing guests back to try every delicious item. Try a house favorite: a Certified Angus Beef "Copper" Burger cooked to order and served to your specifications on a grilled Hawaiian roll.
The Copper Grille offers both indoor and outdoor ambiance with our patio overlooking the lake at the 9th green and the lush fairways beyond. From intimate dining to special occasions we can accommodate 12 to 32 guests in our Lakeview Room with custom wine pairings available. Or reserve the Grandview Room for your larger celebrations.
Serving fine wines from Calaveras, Napa and beyond, the Copper Grille features a full bar stocked with many of your favorites. Breakfast and lunch are served 7 days a week and dinner on Thursday, Friday and Saturday. See our listing for current hours.
For the golfer, our 18 hole championship golf course has been consistently ranked in the top 15 courses in California by Golfweek Magazine. The name may have changed but you can still enjoy great golf, great food and great views at the Copper Grille at The Golf Club at Copper Valley – Worth the drive, pardon the pun!
Opening Hours
Tuesday
7:00 am - 4:00 pm
Wednesday
7:00 am - 4:00 pm
Thursday
7:00 am - 8:00 pm
Saturday
7:00 am - 8:00 pm
Opening Hours Notes
Breakfast
Mon – Sat 7:00 AM – 11:00 AM
Sunday 7:00 AM – 12:00 PM
Lunch
Mon – Wed 11:00 AM – 7:00 PM
Thu – Sat 11:00 AM – 4:00 PM
Sunday 12:00 PM – 5:00 PM
Dinner
Thu – Sat 5:00 PM – 8:00 PM