Update: No Increase In Ferguson Fire, Yosemite West Reopens To Some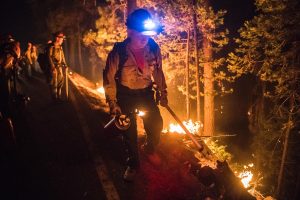 Ferguson Fire firing operations along Highway 41

View Photos
Update at 8:45 p.m.:  The Ferguson Fire holds steady this evening at 95,947 and 83-percent contained. A timeline of Ferguson Fire news stories is here.
Incident Command reports progress on several fronts. On the east flank, crews continued to hold and improve fireline from Badger Pass to Elephant Rock. Contingency and emergency lines continue to take hold in the north and east. Suppression repair continues in the Sweetwater Ridge, Jerseydale and Mariposa Pines areas. Firefighters are patrolling the blaze east of El Portal, north of Highway 140, fireline along Forest Service Road 2S20 and on 13 Ridge.  Others are cutting down hazardous trees by roads and containment lines while also monitoring and securing areas.
Incident Command is confident that if future spots or slop overs occur, alternate and contingency lines along with resources can tackle the flames even with the number of personnel falling by 122 firefighters to 1020. Over the next 72 hours, holding, improving and mopping up will continue.
For details on Yosemite West reopening view below.
Update at 12:30 p.m.: The Mariposa Sheriff's office has lifted its evacuation order for Yosemite West due to the Ferguson Fire for residents, employees and contractors needing to clean-up or repair homes and businesses.
The area will then reopen to visitors on Monday, August 13, at 6 a.m., but only for those with reservations. Incident Command reminds the public to take these safety precautions; stay up to date on current fire conditions; obey road closures and any evacuation warnings, stay clear of downed power lines and if any are found contact PG&E immediately. Additionally, treat all trees and poles with deep charring, particularly if still smoking, as hazardous. The same applies to burned residences or out-buildings. Those hazards may include asbestos, heavy metals, by-products of plastic combustion and various other chemicals, according to fire officials.
The fire's containment is 83-percent and the acreage is estimated at 95,947. Further details on the blazes activity and additional openings on Yosemite and other recreation areas can be found below.
Original post at 10:20 a.m.: Containment continues to inch up in the Ferguson Fire burning in Mariposa County, spot fires remain a constant threat to Yosemite National Park.
The fire's containment is up a percent to 83-percent and the acreage is estimated at 95,947.
Incident Command reports crews are working non-stop to reinforce containment lines  to ensure the fire does not spread into the Yosemite Valley. Firing operations were completed yesterday to Elephant Rock, which is about 1 1/2 miles west of the Tunnel View. There are sprinkler systems in place at the base of the rock to prevent fire spotting beyond the cut hand line. Containment increased on the service road leading to Badger Pass as ground crews were able to stay on top of spot fires and quickly extinguish them when sparked. Those efforts will continue today with crews reinforcing the hand line from Badger Pass northwest to Wawona Road.
Hand crews and engines will also be patrolling today along the burnout operation areas on Wawona Road looking for hot spots outside the containment line, which threaten retaining the fire's perimeter. Helicopters have been a key weapon by spotting the rouge flames and directing ground crews to these spot fires for quick containment, according to fire officials.
Meanwhile, in the fire's burn scar left behind, backhauling crews are picking up discarded  equipment, tools and hose used in the suppression efforts. In fact, they have already collected over 200 miles of hose was used on the blaze to be reused battling the next fire.
Resources assigned to the blaze include: 1,142 personnel, 180 water tenders, 9 helicopters, 14 crews, 9 dozers and 17 mulchers.
As reported earlier, Yosemite National Park announced main attractions will reopen next week (click here) and other recreation areas are opening this weekend, click here.