Update: 33-Percent Containment On Ferguson Fire, Yosemite Closures Pushed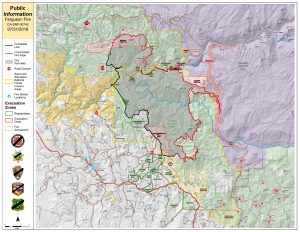 Ferguson Fire Map - Black Lines Show Containment

View Photos
This is Day 19 of the Ferguson Fire, more updates are here.
Update at 6:30 p.m.: While Yosemite officials announced the extension of closures for a second time in some areas of the park (Further details below), the latest figures for the Ferguson Fire burning in Mariposa County show crews continue to get a handle on the blaze. The fire grew by just 228 acres to 58,074 acres by Tuesday evening.
Update at 5:15 p.m.: The unhealthy smoke and continued fire suppression efforts in Yosemite Valley and other areas has forced Yosemite National Park officials to extend their closure for a second time due to the Ferguson Fire.
Additionally, Hetch Hetchy has been added to the list of closed areas in the park that also includes Wawona Road, the Mariposa Grove of Giant Sequoias and the Merced Grove of Giant Sequoias. The Yosemite Valley was scheduled to reopen on Friday (August 3rd), as reported here., but that date has been pushed to Sunday (August 5th). Instead, park officials will continue to assess conditions and reevaluate all closures on Sunday.
As reported  here last Tuesday, both Yosemite Valley and the Wawona area were initially closed on July 25th, as smoke filled the valley and a fire staging area was set up along with operations on El Portal and Wawona roads.
The areas that remain opened in the park include:
Big Oak Flat Road (Highway 120 West) to Crane Flat
Tioga Road (Highway 120 East) from Crane Flat to Tioga Pass
All trails and campgrounds along Tioga Road, including the Tuolumne Meadows Campground
Visitor services along Tioga Road, including the High Sierra Camps and visitor services near Tuolumne Meadows remain open
Update at 1:30 p.m.:  Mother Lode Congressman Tom McClintock has released this statement as the state mourns two firefighters killed while battling the Carr and Ferguson fires:
"I was deeply saddened to learn that the Ferguson Fire has taken the life of yet another firefighter, Capt. Brian Hughes of Squaw Valley, on Sunday and that bulldozer operator Don Ray Smith of Pollock Pines died Thursday while fighting the Carr fire. Their deaths remind us how much we owe every one of the thousands of dedicated men and women who stand between these fires and our homes and families.  They know the dangers better than any, yet day after day and year after year take the front lines to stop these monster fires. To the families of Capt. Hughes and Mr. Smith, and to the others across the West who have lost their loved ones fighting these recent fires, go the gratitude and admiration of every one of us in the communities they died to protect."
Original post at 7:36: Mariposa County, CA — Crews have made progress further slowing the Ferguson Fire in Mariposa County.
This morning it is 57,846 acres and there is 33-percent containment. 2,846 structures are still considered threatened and one has been destroyed.
Last night firefighters successfully conducted back-burning operations near the Wawona Campground along the eastern perimeter. Along the northern end of the fire, officials are still waiting for optimal conditions to begin a tactical firing operation near Pilot Ridge, close to the Tuolumne County line. It is expected to occur within the next couple of days and will put off more heavy smoke. The goal is to connect all of the containment lines by around August 15. Containment lines have already been built along much of the southwest perimeter, near communities like Jerseydale, and mop-up operations are well underway.
Mandatory evacuation orders remain in place for Anderson Valley, El Portal Trailer Court, Foresta, Old El Portal, Old Yosemite Road, River Road, Yosemite View Lodge and Yosemite West.
Advisory evacuation notices are issued for Cedar Lodge, East Westfall Road, Ponderosa Basin, Rancheria Flat and Savage's Trading Post.
Road closures include Anderson Valley Road, Foresta Road, Harris Road, River Road, Summit Road, Old Yosemite Road and Wawona Road.
Yosemite National Park is hoping to re-opens areas currently closed on Friday, August 3rd. For a larger map click here.
A timeline of all our Ferguson Fire news stories is here.