Update: Ferguson Fire Acreage Grows, Containment Decreases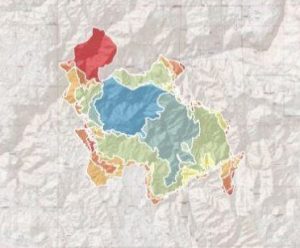 Ferguson Fire map 7-21-18

View Photos
This is Day 9 of the Ferguson Fire, more updates are here.
Update at 8:30 p.m.:  The Ferguson Fire grew by nearly 2,000 acres to a total of 29,045 acres while the containment, which had held at seven-percent most of the week, dipped to six-percent.
Incident Command reports the area that saw the most growth throughout the day was north of Highway 140 near Neds Gulch where four spot fires broke out Friday night and have combined into one. The rough and steep terrain is making it difficult for ground crews to combat. Continued fire activity is expected overnight north of the Merced River due to dead vegetation fueling the flames. Firefighters will scout the area overnight to find the best options on the fire's perimeter for line construction, according to fire officials. Crews were able to complete most of the hose line from El Portal to Wawona Road to allow for back burning.  Fire officials confirm that ground crews are holding the line around Jerseydale. The number of structures threatened remains at 216.
Details regarding Secretary of the Interior Ryan Zinke's visit to the fire camp, evacuations, injuries to firefighters, the fire's predicted spread into Yosemite National Park, concerns for the Highway 120 Corridor Communities and visitation information for deceased firefighter Braden Varney on Sunday. Click here for details on Monday's Celebration of Life.
To see the Ferguson Fire timeline, click here.
Update at 3:45 p.m.: The expanding Ferguson Fire received the attention of the U.S. Secretary of the Interior, Ryan Zinke, as he decided to get a frontline view of the blaze burning in the Sierra and Stanislaus National Forests and threatening Yosemite National Park. Incident Command reports that the Secretary along with Mother Lode Congressman Tom McClintock got an operational briefing by fire managers and other agency officials and an update on the suppression efforts to protect local communities.
Mariposa County Sheriff Doug Binnewies was also at the Ferguson Fire Camp. He notes that both the secretary and congressman gave their full support to the Ferguson Fire and ensured that the communities would continue receiving the resources necessary to fight the fire.
Zinke was already in the area after having toured both Lake Don Pedro and New Melones yesterday at the request of Congressmen McClintock and Jeff Denham as they pushed for his support on water-rights issues, as reported here.
View earlier details on the fires predicted spread into Yosemite National Park, concerns for the Highway 120 Corridor Communities, information on two firefighters injured yesterday, visitation information for deceased firefighter and additional evacuations below. To see the Ferguson Fire timeline, click here.
Update at 2 p.m.: Another mandatory evacuation order has just been issued by the Mariposa Sheriff's Department for the Anderson Valley Area, northwest of the El Portal area. Sheriff's officials stress that there are NO mandatory or advisory evacuations issued for the Greeley Hill or Coulterville communities.
Update at 1:15 p.m.: As the Ferguson Fire's acreage continues to grow and has already expanded into the Stanislaus National Forest, Incident Command tells Clarke Broadcasting that it is predicted that the flames will spread into Yosemite National Park as well. "Probable that it is eventually going to get to the park," revealed Spokesperson Jim Mackensen. He explains, "That's what all of our fire behavior people are saying that based on the fuels, the weather, the petrography and the lack of opportunities for us to safely put people into some of these areas. We can't even put bulldozers in a lot of that area."
Mackensen details that all of the control efforts are "a bunch of folks out there cutting handlines with hand tools and chainsaws." He notes that it is very labor intensive and time consuming.  Mackensen adds that Mother Nature will be a big factor, "If we get a change of wind or some other event, it [the fire] could push a lot quicker and we would have to abandon those lines and then fall back."
With regards  to fighting the fire once it is inside the park Mackensen referred us to Yosemite National Park officials, who we reached out to, but have not yet responded to our contact attempts.
Details regarding another top priority area for firefighter, information on two additional firefighters injured yesterday and new evacuations can be viewed below. To see the Ferguson Fire timeline, click here.
Update at 10:05 p.m.: More residents are being forced from their homes in the Ferguson Fire burning in Mariposa County and the Sierra and Stanislaus National Forests. The Mariposa Sheriff's office has issued a mandatory evacuation for the Yosemite West area. Residents are asked to leave the area immediately. A Red Cross Shelter is set up at the New Life Christian Church located at 5089 Cole Road in Mariposa. Anyone needing assistance with large animal evacuation is asked to call the Mariposa County Sheriff's Office at 209-966-3615.
Update at 9:30 p.m.: With the Ferguson Fire Flames crossing into the Stanislaus National Forest concerns have grown for the Highway 120 corridor as Incident Command spokesperson Jim Mackensen tells Clarke Broadcasting it has become the high priority for today. He states, "We've working most diligently on obviously the new extension is a great concern because it is wide open out there and it could start heading north an potentially, even though it is many miles away,  could impact the Highway 120 communities."
Update at 9 a.m.: A total of four firefighters have been injured battling the Ferguson Fire burning in Mariposa County that overnight crossed into the Stanislaus National Forest. That fire extension is about 2,000 acres. Incident Command updates Clarke Broadcasting on the additional firefighter injuries. Spokesperson Jim Mackensen shares, "Two of the firefighters injured yesterday, they both suffered from back injuries; muscle type strains. So. there were no traumatic type injuries. They were both taken in for treatment and were release to go home and recover."
In the case of the two earlier injured firefighters, Mackensen details that one suffered from a leg fracture and the other from dehydration.
Further details on the fire's activity overnight can be viewed below.
Original post at 8 a.m.: Mariposa County, CA — The flames of the Ferguson Fire, burning in Mariposa County just west of Yosemite National Park, remained active over night as there was a hike of more than 2500 acres bringing the blaze's size to 27,129 acres, but the structures threatened remain at 216. The containment has also not increased from the seven-percent reached earlier this week.
Incident Command now reports that four firefighter have been injured, up from two, but did not release any details. The bulk of the increased acreage came north of Highway 140 near Neds Gulch where the unstable atmosphere helped the fire spot over the road and the Merced River into the Stanislaus National Forest.  Both air and ground resources engaged the new fires early but were unable to make headway in the steep, rugged terrain, according to fire officials, who add that the portion of the fire north of the river is estimated at 2,000 acres. It is a combination of four separate fires sparked yesterday evening that combined. The flames forced evacuated in the areas of Rancheria Flat (government housing), Old El Portal including Yosemite View Lodge and the community of Foresta, as reported here yesterday.
Today, Incident Command relays that firefighters will scout out the area north of 140 to find the best ground to make a stand and stop the spread of the new spot fire. Crews continued to make progress on building line from El Portal southeast to the Wawona Road. Fire officials share that much of the line is complete and lined with hose lays in preparation for tactical firing operations. Along the western edge of the blaze, firefighters continued to hold the line around Jerseydale and worked to mop up some of the remaining hot spots and smoldering embers in that area, which they will continue to do today.
The Red Cross has set up an additional evacuation center at the Yosemite Valley Elementary School located at 9009 Lost Arrow Road, in Yosemite National Park. An existing shelter at the New Life Christian Church in Mariposa at 5089 Cole Road is also available to evacuees. Additionally, there are two animal shelters. One for small pets is located at 5599 Highway 49 and one for large animals is at 5007 Fairgrounds Road, both are in Mariposa.
Yosemite National Park remains open but one of its scenic routes, Glacier Point Road, has been closed to stage firefighters. Additionally, Highway 140 West to Mariposa remains closed.
Current resources on the scene include 2,832 personnel, 204 engines, 38 water tenders, 17 Helicopters 70 crews and 40 dozers.
As reported yesterday, CAL Fire has released the details regarding a visitation for Heavy Fire Equipment Operator Braden Varney. It will be held in Modesto from 2 to 6 p.m. on Sunday at Franklin and Downs Funeral Home located at 1050 McHenry Avenue.
To see the Ferguson Fire timeline, click here.