Update: Ferguson Fire New Evacuation Order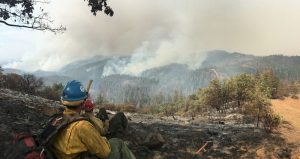 Hotshots fighting Ferguson Fire

View Photos
This is Day 10 of the Ferguson Fire, more updates are here.
Update at 4:30 p.m.: The Mariposa Sheriff's Office has issued a mandatory evacuation order for Old Yosemite Road, southwest of the Buck Meadows area in Mariposa County. A Red Cross shelter is set up at the New Life Christian Church located at 5089 Cole Road in Mariposa.
Further details on the blaze can be viewed below.
Original post at 8:30 a.m.: Mariposa County, CA – While the Ferguson Fire was active overnight, crews also made some in roads on combating the flames.
The blaze burning in Mariposa County just west of Yosemite National Park gobbled up nearly 1,500 additional acres, climbing to 30,493 total acres scorched. The containment still sits a six-percent and the number of structures threatened remains at 216.
Incident Command now reports fire crews were able to bolster lines overnight particularly in the Jerseydale area where new lines were completed. Much of the fires intensity was targeted on the Stanislaus National Forest, but the treacherous terrain and fires veracity made it very difficult and dangerous for ground crews to fight back the flames and they were forced to back off, according to fire officials. However, Incident Command reports crews have devised an alternative plan to use roads around the Soapstone Ridge/Neds Gulch area to entrench their holding line.
Progress was also made in the area of El Portal and Yosemite West were crews continue to install hose lays to protect those communities on the northwest and west areas of the fire's perimeter. Incident Command points to one area of success, calling the Sweetwater Creek area burnout operation "successful."
Although crews will be forced to deal with temperatures heating up and creating drier conditions, the dominate factor that is driving this fire, according to fire officials, is the thick fuels and rugged topography.
As reported earlier, this afternoon CAL Fire is holding a visitation for Heavy Fire Equipment Operator Braden Varney in Modesto from 2 to 6 p.m. at the Franklin and Downs Funeral Home located at 1050 McHenry Avenue. It is open to the public.
Details regarding Secretary of the Interior Ryan Zinke's visit to the fire camp yesterday, evacuations, injuries to firefighters, the fires predicted spread into Yosemite National Park, concerns related to the Highway 120 Corridor Communities and Monday's Celebration of Life for Varney, click here.
To see the Ferguson Fire timeline, click here.