Detwiler Fire Summary Timeline
The Detwiler Fire started Sunday, July 16th just before 4PM. Detwiler Fire burned a total of 81,826 acres, destroyed 63 homes, 67 outbuildings and a commercial building. Thousands of people were forced to evacuate, including the entire community of Mariposa.
State Department of Forestry and Fire Protection investigators believe the Detwiler Fire was caused by gunshots fired on public lands starting the 81,000-acre wildfire.
7/16/17 Detwiler Fire Starts Columbia aircraft heads to another fire two miles east of Lake McClure and west of Highway 49 in the Bagby area. The flames broke out off Hunters Valley Roads near Detwiler Road. The fire grows from 15 acres to 150 in 30 minutes and structures are reported as threatened.
The CHP shuts down roads and evacuations are advised and ordered. By 6PM the fire is 300 acres, by 7PM it is 1,000 and by 8:45 it is 2,000 acres. The last update of the evening at 10PM says the fire is 2,500 acres and the evacuation center is moved from McCay Hall located at 2820 HWY-140 in Catheys Valley to Mariposa Elementary School.
7/17/17 Detwiler Fire Day 2
7/18/17  Detwiler Fire Day 3
7/19/17 Detwiler Fire Day 4
7/20/17 Detwiler Fire Day 5
70,906 acres and 10% contained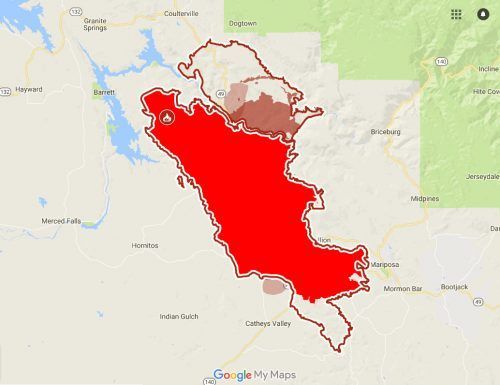 45 structures have now been documented as destroyed.
Mother Lode Fairgrounds in Sonora according to Fair CEO Ken Alstott reports 69 people checked in at the shelter last night, and around 35-40 animals.
Acreage rose due to an increase in fire activity late yesterday afternoon. Overnight, fire crews continued their work to establish and reinforce containment lines. The fire area is seeing poor humidity recoveries at night allowing the fire to remain very active. The fire is burning in drought stricken chaparral and in an area of severe tree mortality.
Deputy Administrator and OES Coordinator Tracie Riggs talks about local efforts underway. Animal Control is helping, of the 70 evacuees who spent the night last evening at the Mother Lode Fairgrounds, she says about 90 percent were seniors and she expects a slow steady inflow to continue.
Evacuation advisory for the area south of Highway 120 to the county line, between Smith Station Road and the Town of Moccasin, and an evacuation warning for the areas of Jackass Creek Road, Jackass Ridge, Cuneo Road and Priest Coulterville Road.
Speaking about the fire conditions, CAL Fire Information Officer Scott Mclean says, "The wet winter has promoted a grass crop that we haven't seen for decades. This fire started in the grass and has moved into what we call brush patches, which cover the mountains in this area. This brush is very receptive to the fire as well."
7/21/17 Day 6 Detwiler Fire Map
Last evening 79 people spent the evening and about 35-40 animals are being boarded. Too, about 30 US Forest Service personnel are on site, many of whom pitched tents that are now visible from Stockton Road.
11:50AM Evacuation Order Lifted For Town Of Mariposa
11:25AM An engine assigned to the Detwiler incident, operating near the Mount Bullion area, was involved in an accident- no further details.
7/22/17 Detwiler Fire Reaches 40 Percent Containment, More Updates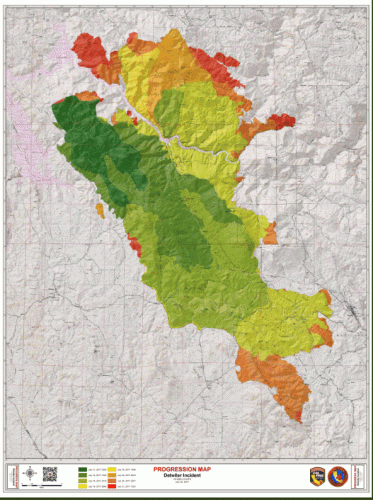 8:35AM 75,200 acres and 30-percent contained
7:18PM 75,500 acres, up about 200 acres from this morning.
7/23/17 3:45pm: Sgt. Andrea Benson of the sheriff's office reports that all Detwiler Fire related evacuation warnings and advisories have been lifted in Tuolumne County.
4,756 firefighters are assigned to the Detwiler incident today.
The fire remains 40-percent contained and is around 76,000 acres. 63 homes have been destroyed, 67 outbuildings and one commercial building. In addition, 13 more homes have received damage, as well as eight outbuildings. What ignited the Detwiler Fire remains under investigation.
7/24/17 76,250 arces 50-Percent Containment On Detwiler Fire
Air Quality Alert For Southern Tuolumne County through Thursday, July 27th
7/25/17 78,900 acres and 65% contained grows to 80,000 acres. 5,128 firefighters are assigned to the incident this morning. There are 483 engines and 116 total crews. CAL reports the fire showed signs of a flare up in the 4:00PM yesterday afternoon, during which CAL Fire called upon additional units, including air resources. Details here. 
7/26/17 Detwiler Fire Acreage 80,250 and 65% contained acreage and containment grow to 81,250 acres, 70%
Sonora's Red Cross Detwiler Fire Shelter To Offer Recovery Assistance
McClintock Calls For Expediting Forest Legislation Following Detwiler Fire
7/27/17 81,350 acres and 75% contained more evacuations lifted
8/4/17 CAL Fire Determines Cause Of Detwiler Fire
8/8/17 Detwiler Fire Investigators Still Seeking Details, Public's Help
8/24/17 Full containment: five weeks and four days after it ignited, CAL Fire reports this morning that the Detwiler Fire in Mariposa County is 100-percent contained.