On High Alert For Ferguson Fire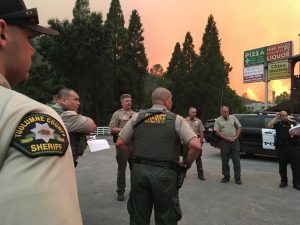 Tuolumne County Sheriff's Office Lends Support In Mariposa County for Detwiler Fire

View Photos
This is Day 16 of the Ferguson Fire, more updates are here.
Groveland, CA — Even though the Ferguson Fire flames have not spread into Tuolumne County, the first Unified Command community fire meeting was held in Groveland yesterday evening.
There was a good crowd at the Tenaya Elementary School on Highway 120 with all eager to hear the latest fire details including Tuolumne County Sheriff Bill Pooley. He tells Clarke Broadcasting that others on his staff have attended the morning briefings at base camp in Mariposa County to make sure nothing catches them by surprise, noting, "We're plugged right in, we're working well with Tuolumne County Administration, Cal Fire, County Fire Agencies, Forest Service, and the Inter Agency Incident Management Team for the Ferguson Fire."
With this meeting being in the county, Pooley acknowledges he wanted to personally attend so he can assure residents they are monitoring the situation and have a contingency plan in place. He details, "We've got some trigger points that if the fire should hit those points, it gives us a solid 24 to 48 hours of time to get mobilized. We've already briefed all of our folks on what will do should it hit there."
Pooley adds that most of his team worked through the 2013 Rim Fire and the Detwiler and Twister Fires last year so they are prepared.