Update: Yosemite Closures Extended, One Building Destroyed In Ferguson Fire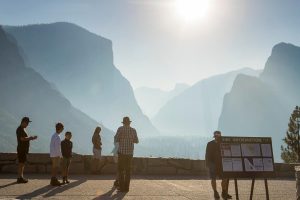 Smokey Yosemite Valley view from tunnel view in Yosemite National Park

View Photos
This is Day 15 of the Ferguson Fire, more updates are here.
Update at 7:30 p.m.: The Ferguson Fire acreage inches up by 764 acres to 46,675 and the containment remains 29-percent while Yosemite National Park has extended the closure of the Yosemite Valley and Wawona area into next month.
Incident Command confirms that one non-residential building has been destroyed and 5,245 remain threatened. In the skies, fire officials relay that aircraft deployed incendiary devices (fire bombs) to burn pockets of vegetation between the containment line and the fire's perimeter.
On the ground, firefighters are nearing completion of indirect containment lines around the blaze as long as the terrain and weather cooperate, according to Incident Command. Crews worked on hotspots on the western front, explored linking hand and dozer lines closer to the fire's perimeter on the north side. Firing operations were completed from Henness Ridge to the Merced River on the east while crews also worked to link lines between the burn scars from the 2017 Empire and South Fork Fires. To the south, crews worked to prep the area between Round Tree Saddle and Chowchilla Mountain Road for future tactical firing operations.
Current resources battling the blaze include 3,898, 282 engines, 46 water tenders, 16 helicopters, 92 crews and 81 dozers. For additional details on the extension of the Yosemite closure view below.
Update at 6:15 p.m.: Yosemite National Park officials have extended the closure of the Yosemite Valley until August and longer for the Wawona area.
Both areas were shutdown at noon on Wednesday (July 25th) due to heavy smoke and firefighting operations in the area. Originally, they were slated to reopen on Sunday (July 29th) but that date has been pushed. The valley is scheduled to reopen on Friday, August 3rd at 4 p.m. with limited services available in the area. Park officials note that there is no opening date set for the Wawona area noting that Wawona Road and Highway 41 from the park's south entrance to Tunnel View and the Mariposa Grove of Giant Sequoias will remain closed until further notice.
Other fire closures include Glacier Point Road, Bridalveil Creek Campground, the Wawona Campground, and the Merced Grove of Giant Sequoias.
Areas remaining open in the park include Hetch Hetchy, Highway 12o/Tioga Road and Tuolumne Meadows.
Original post at 7:45 a.m.: Mariposa County, CA — We have new numbers on the Ferguson Fire burning in Mariposa County.
Crews now have 29-percent containment on the 45,911 acre blaze. 5,245 structures remain threatened and 3,821 firefighters are assigned to the incident.
Crews made progress overnight expanding containment lines, however, a wind shift out of the north created challenges and the fire grew over 1,600 acres. Firefighters continue to focus on structure protection near the communities of El Portal and Yosemite West, and create and strengthen lines around the entire perimeter.
Throughout today an inversion layer is expected to shield the fire from excessively high temperatures, and winds are expected to return out of the west-southwest.
Yosemite National Park reports that Yosemite Valley, Wawona and the Mariposa Grove of Giant Sequoia's remains closed.
A meeting about the Ferguson Fire is scheduled for 6pm today at Tenaya Elementary School on Highway 120 in Groveland.
There have now been seven firefighter injuries and one fatality. Yesterday Governor Jerry Brown issued a state of emergency for Mariposa County which opens the door for additional potential state and federal dollars coming to the region.
Mandatory evacuation orders are in place for Anderson Valley, Cedar Lodge, Indian Flat Campground, East Westfall Road to Chowchilla Mountain Road, El Portal Trailer Court, Forest, Incline Road from Foresta Bridge to the last BLM campground, Lushmeadows, Old El Portal, Old Yosemite Road, Ponderosa Basin, Rancheria Flat, Savage's Trading Post, Tip Top Road from Triangle Road to Gunther Road, Triangle Road from Darrah Road to Highway 49 South, Yosemite View Lodge and Yosemite West.
Advisory evacuation notices have been given to Darrah Road from Triangle Road to Sherrod Road, the east side of Highway 49 South From Darrah Road to Triangle Road, Mariposa Pines/Jerseydale Road, Triangle Road from Jerseydale Road to Highway 49 South and Highway 49 South from Stumpfield Mountain Road to the Mariposa/Madera County line.