Update: Ferguson Fire Grows To 9,266 Acres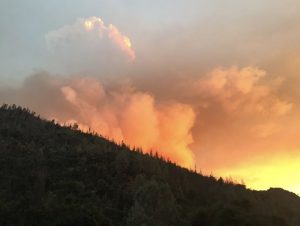 Ferguson Fire in Mariposa County

View Photos
This is Day 4 coverage of the Ferguson Fire, more updates are here.
Update at 8:54pm: The Mariposa County Sheriff's Office has issued a mandatory evacuation order for Incline Road from Clearing House to the Foresta Bridge. Those leaving the area should keep an eye out for responding firefighters.
In addition, an evacuation advisory has been issued for the National Park Service's El Portal Complex, Rancheria Flat government housing, El Portal Trailer Court and Old El Portal.
A revised size estimate was not put out this evening by the incident command team. The latest estimate this morning was 9,266 acres and two percent containment.
Update at 6pm:  A notice was sent out that a community meeting will get underway at 6pm Tuesday (7-18-18) to discuss the current Ferguson Fire situation.
The post was sent by the Unified Commanders, CAL Fire, US Forest Service and Mariposa County Sheriff's Office, who noted they would provide an operational overview briefing highlighting the current actions firefighters are taking as well as answer questions and provide current maps and other visuals.
The meeting location is Wasuma Elementary School, located at 43109 Highway 49 in Ahwahnee.
Update at 2:09pm: CAL Fire officials say that with the assistance of rescuers they have recovered the deceased firefighter who perished in the Ferguson Fire.
California Urban Search and Rescue Task Force 5 successfully located CAL Fire Heavy Fire Equipment Operator (HFEO) Braden Varney from the accident site within the fire incident area. CAL Fire officials say the next phase will be to escort Varney to the Stanislaus County Coroner's Office and that any members of the public who wish to pay respects to HFEO Varney while he is escorted are welcome to line the travel route.
The procession will start at 3 p.m. at the intersection of Highway 49 South and Darrah Road. Varney was tragically killed Saturday and leaves behind a wife and two small children.
Update at 12:45pm: Late in the noon hour CAL Fire updates the status of the Ferguson Fire, which, remains at two percent containment.
CAL Fire officials report that currently one evacuation center is operating at New Life Christian Fellowship Church (5089 Cole Rd, Mariposa 95338).
Among the assigned resources at this point are 34 engines, two water tenders, four helicopters, six hand crews and three dozers. Numerous firefighting tankers from across the state are flying suppression missions as conditions allow.
Update 11:37am: The Mariposa County Sheriff's Office has placed additional areas under an advisory evacuation notice. They include the Lushmeadows subdivision, Ponderosa Basin community, Triangle Road (from Jerseydale Road to Highway 49 South), Darrah Road (from Triangle Road  to Sherrod Road) and the east side of Highway 49 South (From Darrah Road to Harris Cutoff Road) encompassing Boyer Road, Woodland area, Wass Road and Tip Top Road. The latest size estimate of the Ferguson Fire remains 9,266 acres and there is two-percent containment.
Speaking out the challenges of the terrain, spokesperson Richard Hadley says, "There is very limited access, very steep drainages and difficult ridge lines."
He adds, "Coupled with that is the heat. There are really high temperatures, and most of the area has had very little recent fire activity. With tree mortality that's been going on in the Sierras, there is a lot of fuel available. "
Update at 8:30am: Throughout the day firefighters will continue to fight the Ferguson Fire in locations where they have the highest probability of success and adequate time to construct a fire line ahead of its advance.
Crews have been holding the 9,266 acre fire along Highway 140 in Mariposa County and out of nearby structures in the Devils Gulch and Nutmeg area. New containment lines are being built along Sweetwater Ridge on the southwest flank of the fire. Contingency lines are also being built along the eastern flank to slow the movement towards the community of Yosemite West.
Structure protection engines are staged between Cedar Lodge and Hite's Cove. More engines are being inserted near Jerseydale and Yosemite West. There are an estimated 108 structures currently threatened and around 332 firefighters on scene.
Smoke is expected to continue to impact the surrounding region over the coming days, most notably during the evening and early morning hours.
Click here to view the latest Ferguson Fire Map
To view a map pinpointing the region where the fire started, click here. 
Original story posted at 7:38am: El Portal, CA — Overnight officials were able to conduct an overhead flight of the Ferguson Fire to gain a better size estimate.
This morning it is 9,266 acres and two-percent contained. Additional firefighters are pouring into Mariposa County and more have been requested. In order to gain additional space for firefighters, later today the base camp will move from the Mariposa Fairgrounds to Ahwahnee Regional Park along Highway 49 in Madera County.  It is not immediately clear how many firefighters are currently assigned to the Ferguson Fire, according to the public information officers at base camp, but the figures should be available later this morning.
The US Forest is also currently in the process of transitioning into a unified command with CAL Fire as more structures are becoming threatened, notably near the communities of Jerseydale and Yosemite West.
The federal Bureau of Land Management has temporarily closed the Briceburg Visitor Center due to the fire. Also, some campgrounds along the Merced River (McCabe Flat, Willow Placer and Railroad Flat) are closed. Mandatory evacuation orders are also in place for Savages Trading Post and Ferguson Ridge Road. An evacuation advisory is in effect for Cedar Lodge and Yosemite West. Highway 140 is closed from Cedar Lodge to the top of Briceburg Grade and Incline Road is closed from Briceburg Bridge to the last BLM campground.
Highway 140 remains closed north of Mariposa due to firefighting activities and the investigation into the cause.
To view a recap of the fire from yesterday, click here.
To see  a map pinpointing near the area where the fire started, click here