Update: Ferguson Fire Acreage Hike, Varney Visitation Set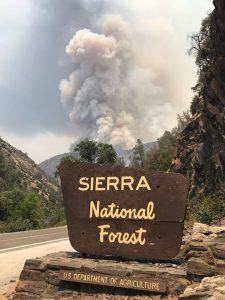 Ferguson Fire

View Photos
This is Day 8 of the Ferguson Fire, more updates are here.
Update at 7:45 p.m.: An very active day for firefighters battling the Ferguson Fire burning in Mariposa County as the acreage jumped to 24,450 acres while the containment remains at seven-percent. Incident Command Officials relay that firefighters were able to contain two spot fires totaling 600 acres north of the Merced River on the Stanislaus National Forest near Miller Gulch and Ned Gulch that forced evacuations for Rancheria Flat (government housing), Old El Portal including Yosemite View Lodge and the community of Foresta. While the flames continue to spread to the south and east in the Granite Ridge area, crews are making progressing building lines along the southwest and western edges of the fire near Jerseydale and Mariposa Pines.
Additionally, CAL Fire has released the details regarding a visitation for Heavy Fire Equipment Operator Braden Varney. It will be held in Modesto from 2 to 6 p.m. on Sunday at Franklin and Downs Funeral Home located at 1050 McHenry Avenue.
For more details on the evacuations and how the "inversion layer" lifting fueled the flames view below.
Update at 6:20 p.m.:  The size of the Ferguson Fire burning in Mariposa County has jumped to 24,450 acres and remains seven percent contained. A mandatory evacuation order has just been issued for the areas of Rancheria Flat (government housing), Old El Portal including Yosemite View Lodge and the community of Foresta. The Mariposa Sheriff's Office relays that the safest escape route will be Highway 140 through Yosemite to the exit area. Highway 140 West to Mariposa remains closed. Glacier Point Road is also closed. Travelers are asked to drive with caution and watch for responding emergency traffic.
The Red Cross has set up an additional evacuation center at the Yosemite Valley Elementary School located at 9009 Lost Arrow Road, in Yosemite National Park. An existing shelter at the New Life Christian Church in Mariposa at 5089 Cole Road is also available to evacuees.  Further details regarding the fire's activity is below.
Update at 5:30 p.m.: As the big plume in the image box shows fire activity has intensified this afternoon on the Ferguson Fire burning in Mariposa County.  The increase is due to the "inversion layer" lifting, according to Sierra National Forest Fire officials, who explain that is when the temperature, which is normally cooler at higher altitudes, instead is inverted and the hotter temperature is at the top. The layer traps the smoke and decreases the amount of air that gets to a fire and typically grounds aircraft.
The latest update on the size of the fire is  22,892 acres and there remains seven percent containment.
Update: 11:08 a.m.: Mariposa County Sheriff's Office has issued an advisory evacuation notice for the Foresta community northeast of El Portal within Yosemite National Park. Sheriff's officials explain that there is a potential, if conditions change, that they could be ordered to leave their homes or businesses at a moments notice so residents will want to prepare in case they are evacuated. The public will be notified of what roadways will be safe for travel if an evacuation order is issued.
A reminder, a Red Cross Shelter is operating at the New Life Christian Church located at 5089 Cole Road in Mariposa.
To view a day to day recap of the fire, click here.
To view the latest Ferguson Fire map click here
Original story at 8:52 a.m.: The latest size estimate this morning of the Ferguson Fire is 22,892 acres and there remains seven percent containment.
216 structures remain threatened but none have been destroyed or even damaged. Firefighters continue to improve containment lines along Sweetwater Ridge and are monitoring the fire's spread along the Merced River Canyon. To this point it has remained on the south side of the canyon. Crews are also protecting homes and businesses near the communities of Jerseydale and Yosemite West. A total of 2,700 firefighters are assigned to the incident. There are 203 engines, 39 water tenders, 16 helicopters, 58 hand crews and 41 dozers. The cause of the fire remains under investigation. An 18 mile stretch of Highway 140 remains closed. An unusually heavy inversion layer stayed over the fire most of yesterday, limiting growth, but the spread picked up late in the afternoon when it lifted.
Mandatory evacuation orders remain in place for Incline Road from Foresta Bridge to the last BLM campground, Jerseydale/Mariposa Pines, El Portal Trailer Court, Cedar Lodge/Indian Flat Campground, Savage's Trading Post and Sweetwater Ridge.
Areas under an evacuation advisory include Yosemite West, Lushmeadows, Ponderosa Basin, Triangle Road, Darrah Road, portions of Highway 49 South, the National Park Service's El Portal Complex, Rancheria Flat housing and Old El Portal.