Food & Recipes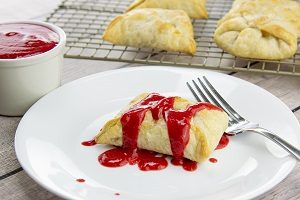 Fresh fruits are one of the highlights of summer. Try this tasty Fresh Pear Dumplings with Raspberry Sauce recipe, bringing pears and raspberries together for a delicious seasonal dessert.
Find more dessert ideas at Culinary.net.
Pear Dumplings:
2 firm, ripe pears, cored and chopped
1/4 cup golden raisins
1/4 cup brown sugar
1 pie crust
water
1 tablespoon milk
1 tablespoon sugar
Raspberry Sauce:
1 package (10 ounces) frozen raspberries
1 teaspoon cornstarch
3 tablespoons sugar
Heat oven to 425 F.
In medium bowl, combine pears, raisins and brown sugar. Mix well.
Lay out pie crust. Cut into quarters. Spoon pear filling on top of dough. Brush edges with water. Fold up sides to form three seams.
Place dumpling, seam-side up, on baking sheet. Brush tops of dough with milk. Sprinkle with sugar.
Bake 18 minutes, or until golden brown. Cool on rack.
In blender, blend raspberries until smooth. Pour blended raspberries into saucepan. Add cornstarch and sugar. Bring to boil, stirring often. Place in freezer 10 minutes.
Drizzle raspberry sauce on plate. Place dumpling over sauce. Top dumpling with additional raspberry sauce.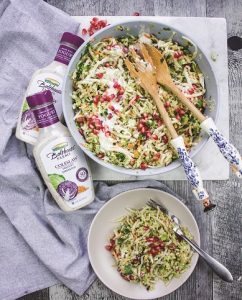 Here are some creative ways to put a twist on classic side dishes to make your meal memorable:
Pasta medley. When you're serving a group with kids, a simple pasta salad is a must-have side that even picky eaters will enjoy. Simply prepare your favorite noodles (fun shapes like spirals or bowties if you're thinking kid-friendly) then add an array of ingredients like cubed cheese, olives, cherry tomatoes and broccoli florets with some extra-virgin olive oil. For a more grown-up flavor, combine feta cheese and bits of fresh basil with a drizzle of Bolthouse Farms Classic Balsamic Vinaigrette dressing for an extra kick of flavor.
Naturally sweet treats. Many traditional sweet dishes are simply impractical for a hot summer day. As an alternative, something lighter can help satisfy a sweet tooth without the bulk of a heavy cake or pie. Try a mixed berry bowl with all your favorite seasonal fruits like fresh strawberries, raspberries, blackberries and blueberries. It's a cheerful presentation and an option all ages can enjoy. Add a few sprigs of mint for garnish for a little festive fun.
Crisp coleslaw salad. A refreshing salad is almost always a crowd-pleaser. Instead of a traditional tossed garden salad, try adding some crunch with a zesty coleslaw salad. This recipe uses all chopped vegetables, allowing you to help reduce food waste by choosing veggies that are not the most beautiful on the shelf, but still taste delicious. Try using an option like Bolthouse Farms Coleslaw dressing to make these veggies and coleslaw even more delicious by giving you the classic, tangy, creamy and sweet coleslaw taste you love with less fat and fewer calories than other refrigerated brands. Just pour, mix in with cabbage and enjoy. Another tip: balance your crunchy veggies with some sweetness, like bits of apple, pear, persimmon or nectarine, for a truly flavorful salad.
Look in the refrigerated area of the produce section to pick up any of the Bolthouse Farms dressing varieties or visit Bolthouse.com to learn more.
"Ugly" Summer Coleslaw Salad
Recipe courtesy of Two Purple Figs
1/2 head white cabbage (about 4 cups)
2 scallions
1 carrot
1 apple
1 pear
1/2 bottle Bolthouse Farms(r) Coleslaw dressing
1 cup pomegranate arils (optional)
Using shredder disc in food processor, shred cabbage, scallions, carrot, apple and pear. Add dressing and pulse until smooth.
Sprinkle with pomegranate arils, if desired, and serve.
Content courtesy of Bolthouse Farms(r).
Calling all Mother Lode Cooks! Submit your favorite recipe(s) along with some info about your cooking experience, specialties and knowledge of local ingredients. We'll add it to our recipe archive for all to enjoy! Bon Appetite!