Update: Ferguson Fire Containment Grows, Meeting Announced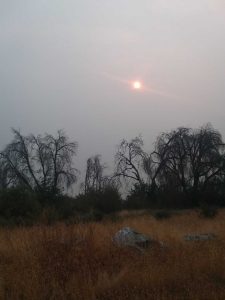 Smoke from Ferguson Fire in Groveland

View Photos
This is Day 21 of the Ferguson Fire, more updates are here.
Update at 6:15 p.m.:  The containment grows on the Ferguson Fire burning in Mariposa County. It is up to 41-percent and the latest size estimate is 69,440 acres. That is a growth throughout the day of 830 acres.
For further details on community fire meeting, a spot fire that has closed a section of Highway 120 and prompted an evacuation advisories in Tuolumne County view below.
Update at 5:30 p.m.: Those impacted by the Ferguson Fire burning in Mariposa County will get another chance to ask questions and hear from Incident Command how firefighting efforts are progressing.
On hand to field audience questions will be members from unified command, U.S. Forest Service and Mariposa County Sheriff's Office. They will relay the current fire conditions and give an overview of the full suppression efforts. The meeting is slated to run from 6 to 7 p.m. tomorrow (Friday, August 3rd) at the Mountain Christian Center located at 40299 Highway 49 in Oakhurst.
Fire officials relay that the meeting will begin at 6 p.m. sharp and advise attendees to arrive early so the meeting will not be disrupted.
The latest acreage on the Ferguson Fire is estimated to be 68,610 acres and 39-percent contained. Further details on a spot fire that has closed Highway 120 is below.
A special thanks to our community partner Clint Maxon for sending in a photo.
Update at 9:55am: Due to a 40 acre spot fire that closed Highway 120 south of Crane Flat this morning, the Tuolumne County Sheriff's Office is issuing an advisory evacuation notice for some nearby areas.
Sgt. Andrea Benson says they include Camp Mather, Rush Creek Lodge, Evergreen Lodge, Spinning Wheel, Yosemite Lake/Thousand Trail Campground, Sawmill Mountain, Camp Tawona, Peach Growers and Berkeley Camp. It is only advisory at this point, which means there is the potential for an evacuation order. The Sheriff's Office continues to work closely with the Forest Service and CAL Fire to monitor fire activity. Fire officials have delegated resources to the spot fire and are confident in their strategy to contain it.
The latest size estimate is 68,610 acres and there is 39-percent containment.
Update at 8:10am: The Ferguson Fire grew 5,722 acres overnight and is estimated to be 68,610 acres and 39-percent contained.
A spot fire on the northern end of the blaze put off heavy smoke and resulted in the current closure of Highway 120 near Big Oak Flat Road in the vicinity park's entrance. A high pressure system is weakening and expected to bring hotter and drier conditions over the coming days, which could increase fire activity. Areas of Yosemite National Park that are currently closed are expected to remain closed through the weekend. The only road open to Yosemite National Park is the other end of Highway 120 via the Lee Vining area.
Crews were also busy last night containing spot fires in the Big Creek area that resulted in precautionary evacuation advisories issued for the Wawona area.
Original Story Posted at 6:15am: Yosemite, CA — The CHP reports this morning that Highway 120 is closed at Big Oak Flat Road near the Yosemite National Park entrance.
It is specifically impacting eastbound traffic, so you cannot enter the park.
Back-firing operations are planned over the coming days in the Pilot Ridge area to slow the fire's spread near the Tuolumne County line, so more heavy smoke is expected. The Ferguson Fire is estimated to be 63,798 acres and it is 39-percent contained. A revised size estimate, and additional related information, will be released following the incident command team's morning briefing at base camp. To view the earlier details posted about the fire, click here.