Sonora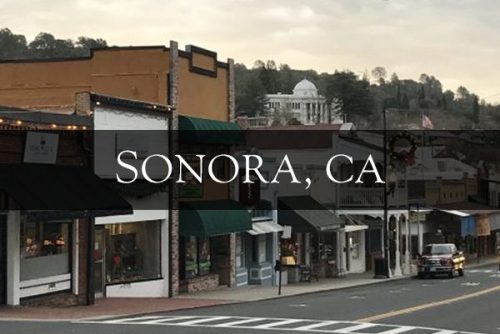 Sonora lies in the heart of the Sierra Nevada Foothills, just three miles from Jamestown along HWY 49 and 108. Highway 108 leads east into and across the Sierra Nevada and provides access to many recreation areas. Highway 49 continues north to Angels Camp.
Modern-day Sonora is a vibrant community with a population of 4,900. Sonora is also home of Tuolumne County administration offices, the new courthouse that opened in November 2021, and the county jail that opened in 2019. For courthouse information click here. Sonora is a busy shopping hub with many lovely antique and locally owned stores, many of whom advertise right here. The Junction shopping center hosts small community events and Sonora Regal Cinemas 10 is the only movie theater in the county.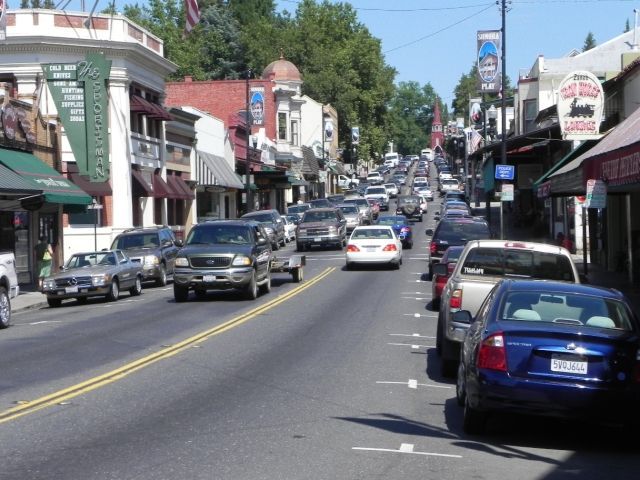 Adventist Health Sonora is the only hospital in the county. Sonora extends its small town hospitality to resident and visitor alike. The Mother Lode Round Up attracts visitors from all over, details are here and many come to enjoy the annual Mother Lode Fair. For more information about the area visit the Tuolumne County Visitors Bureau.
One of the oldest churches in California and the most elegant old building in Sonora, is St. James Episcopal Church, also known as the "Red Church". Originally built in 1848, it was rebuilt after a fire in 1859. To learn about what is going on in Sonora keep an eye on the calendar section.
Known as Queen of the Southern Mines, Sonora was as wild as other mining towns but bigger. It was settled in 1848 by miners from Sonora, Mexico, who called it Sonorian Camp. A mine where Sonora High School now stands yielded a 28 lb. nugget in 1851 and produced 990 lbs. of gold in one week in 1879. For more about other gold finds see the rock hounding section in the recreation guide.
It started out as a Latin-flavored metropolis with adobe houses, fandango halls, and bull baiting. When American miners learned of foreigners working the rich area conflict began. The situation came to a climax when the state legislature passed a law requiring foreign miners to pay a monthly tax of $20 per man. After some gunplay, over 2,000 Mexicans departed Sonora. Ironically, the tax proved to be the end of Sonora as a boomtown. Things were so quiet that the local newspaper, Sonora Herald, went out of business. The tax was found to be illegal and was repealed in 1851, but Sonora never regained its pre-tax lawlessness.
Four devastating fires reduced various buildings to ashes, but Sonora still has some historical buildings and Victorian homes to admire. For more information about the area visit the Tuolumne County Museum and History Center which is housed in what once served as the town jail.
Sonora Zip Code: 95370
US Post Office –
Sonora 83 South Stewart Street
800-275-8777
US Post Office –
Sonora Main Office
781 South Washington Street
800-275-8777
Police –
100 South Green Street
209-532-8143
Fire –
201 South Shepherd Street
209-532-7432
Schools –
Sonora Elementary details here