Tuolumne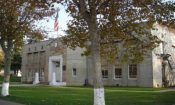 The city of Tuolumne has endured over the years changing its name with the times. It was equally a home to native people, gold miners, loggers and now an expanding casino and lively community events. The population is 2,152. Our Map of Tuolumne
When the occasional stormy day keeps the tourists away from Mother Lode outdoor activities, Black Oak Casino and Resort in Tuolumne can be a refuge. The casino is managed by the Tuolumne Band of Me-Wuk Indians and also offers a variety of restaurants including, on the top floor, Seven Sisters fine dining. For more about Black Oak Casino and Resort and other casinos in the area visit the destination guide.
Black Oak Casino and Resort's "Underground Arcade" is the only arcade in the area, but if you think kids spend too much time playing video games stop at Cover's Apple Ranch. Cover's is a working family-operated farm in Tuolumne; with a variety of animals you can hand-feed corn in the barn area. A small steam train encircles a pond, and even goes through tunnels! Cover's offers delicious bakery food, lots of fruit products and their famous "Mile High Apple Pie."
Events in Tuolumne include the Annual Acorn Festival put on by the Tuolumne Band of Me-Wuk Indians is in September.
Tuolumne Lumber Jubilee Celebrates the logging history of the area. The event hosts one of only two tug of wars regularly held in the United States. It is an old-fashioned carnival with a logging show which includes a Jack and Jill competition, Bull of the Woods, and axe throwing to name a few of the exciting events.
Summerville High School is located in Tuolumne and hosts community events. To learn about what is going on in Tuolumne keep an eye on the Calendar.
California State Historic Landmark number 407 states: "Summersville (Tuolumne) – The area's first non-Indian settlers, the Franklin Summers family, arrived in 1854 and built a log cabin a half mile west of this spot, the geographical center of East Belt Placer Gold Rush from 1856 to 1857. In 1858, James Blakely discovered the first quartz lode half a mile east of here and named it 'Eureka'. The mine became the nucleus of the town of Summersville, which was later called Carters and finally became Tuolumne. Other mining towns lively in gold rush days were Long Gulch, two miles south, and Cherokee, two miles north." For a more detailed history there visit the Tuolumne Museum or check it out online in the museum page of our destination guide.
Tuolumne Zip Code: 95379
US Post Office Tuolumne – 18758 Carter Street
209-586-4800
Fire – P.O. Box 1445
209-928-4505