Groveland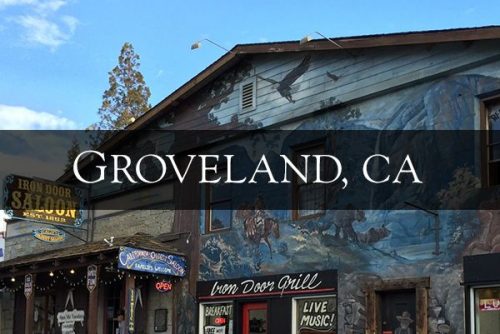 This town of 3,388 is much larger than its immediate neighbor, Big Oak Flat. At an elevation of 2,846 feet, Groveland is 26 miles west of the Northern entrance to Yosemite National Park. Groveland is sometimes called "The Gateway to Yosemite." From the San Francisco Bay Bridge it is a 126 mile trip or it is 115 miles south of Sacramento.
Remote but accessible, Groveland enjoys over 300 sunny days each year. Winter daytime temps average in the 60's and summer daytime temps average in the 80's. Winter snows are light, allowing us to enjoy the snow's beauty without the bother. Roads are open year round but often close further up on your way to Yosemite. Check Mymotherlode.com's traffic section for road closures.
Groveland offers several bed and breakfast inns, including The Groveland Hotel that is said to be haunted by the ghost Lyle.
In Groveland you will find Pine Mountain Lake Golf Course, one of the "Top 15 Best Courses to Play in Northern California." It is an 18-hole championship course available for public play and tournaments. For information about the private lake and country club visit PineMountainLake.com. There is also a small airport 3 miles NE of Groveland, Pine Mountain Lake Airport.

Originally, Groveland and nearby Big Oak Flat were both called Savage's Diggings. James Savage discovered gold there in 1848. Savage's Diggings became Garotte in 1850 named so for the area's swift and harsh justice. (The hanging of a man for stealing a horse.) We promise that the town is a friendly place now, but you can appreciate their colorful history at the Groveland Yosemite Gateway Museum and Library.
Gold was discovered here in 1849, and thousands of dollars in placer gold were taken from mines on Garotte Creek, Big Creek, and other diggings. Among the buildings remaining from the Gold Rush is the Iron Door Saloon built in 1852, still flourishing and claiming to be the oldest saloon in California!
Groveland played an important role in the building of Hetch-Hetchy reservoir. San Francisco received congressional approval in the 1914 for the water project with Groveland as the construction headquarters. Not without opposition, those who want the Yosemite Valley restored can be found at hetchhetchy.org.
Groveland Zip Code – 95321
US Post Office – Groveland 18737 Back Street
209-962-7102
Schools – Residents of Groveland are in the Big Oak Flat school district. All nine public elementary schools in Tuolumne County are separate districts except the Big Oak Flat School District to the east of the Jamestown District that includes the K-8 Tenaya Elementary School, Tioga High students in Groveland, and Don Pedro High School in La Grange. More Big Oak Flat school boundary details are here.
Schools In The Groveland Area
The website for the Big Oak Flat/Groveland Schools is here, including Tioga, Tenaya, Moccasin and Don Pedro High. Don Pedro High School is a four-year school with a small student body of 40-50. They offer A-G courses, varied electives, and concurrent enrollment with Modesto and Columbia Community Colleges allowing students to earn college credits while still in high school.