Arnold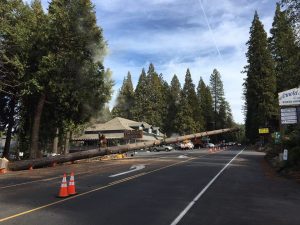 Over the past 50 years the town of Arnold has grown from serving loggers to those seeking a quiet sanctuary. Including the towns around Arnold the population is about the same as the elevation, 4,200. With today's conveniences and yesterdays classic mountain lifestyle, Arnold offers the best of both worlds.
Just up the road is Calaveras Big Trees State Park, where visitors can explore groves of massive, ancient trees. Arnold is the home of the peaceful country club and golf course at Sequioa Woods. Bear Valley winter skiing and Bear Valley Music Festival in the summer entice many from Arnold up into Alpine county. Ebbetts Pass National Scenic Byway provides wonderful views, for road information check the traffic section HWY 4. Our Map of Arnold
If you drive down Blagen Road you will see the amusing sign and declaration: "White Pines Founded 1938 is not Arnold" White Pines is home to more than a hundred hearty souls who are fiercely proud of their community and its history. They would no sooner move than they would stand for being confused with nearby Arnold. It is there that you will find the brand-new Sierra Nevada Logging Museum
Area schools include Hazel Fischer Elementary (K-5) and Avery Middle School (6-8). High School students attend Bret Harte High School in Angels Camp, approximately 20 miles away. Details about the image are in the news story "Huge Hazard Tree Felled Across Highway 4" here.
The California Gold Rush of the mid-1800s brought an influx of people to the Arnold area in search of opportunity. With this new population and the areas extraordinary natural attractions, the Arnold community experienced its first industry, tourism.
In 1927 Bob and Bernice Arnold built Ebbetts Pass Inn and Restaurant. Since then, Arnold has served as a stop for people traveling along the Ebbetts Pass route as well as lodging for those visiting nearby Calaveras Big Trees State Park. The giant sequoias were noted by Augustus T. Dowd in 1852. The area became a State Park in 1931 and despite the snow, many people come through Arnold to see them.
In 1928, Camp Wolfeboro was established nearby as a Boy Scout camp and continues to be in operation today.
In addition to tourism logging began with the first mill opened in the 1860s. White Pines (not Arnold) owes its existence to a sawmill owner named Frank Blagen. Virtually nothing but trees in 1938, many workers stayed in tents until houses were built. Blagen Mill was the last mill in the area- it closed in 1962.
In the mid 1960s with the development of the Bear Valley recreation areas and several subdivisions (many with private lakes, pools and recreational facilities), modern-day greater Arnold began to take shape. Continued growth has resulted in thousands of primary and secondary homes.
Cedar Center has free live music every Saturday Night through September. For more information keep an eye on the Happenings and Calendar sections.
Arnold Zip Code: 95223
US Post Office –
997 Blagen Rd
(209) 795-1006