Columbia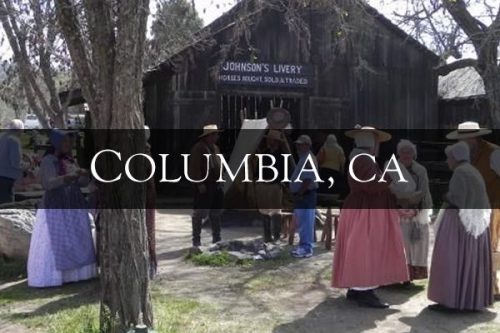 Columbia is a living Gold Rush town with a population of 2,258 located off Historic Highway 49. It is three miles north of Sonora and fourteen miles south of Angels Camp. Our Map of Columbia You will find the brand new Columbia Elementary School, modern restaurants and bistros, and one of two theaters run by the award-winning Sierra Repertory Theater.
Columbia State Historic Park at the NW corner of Washington and Broadway Streets is so authentic that the area has been used for many movies over the decades. For more information about Columbia Historic Park check out the destination guide and don't forget any of the wonderful annual events.
Columbia College is a beautiful destination and a valuable educational resource for the community. For more about the College visit the destination guide or their website.
Columbia airport has four runways and two Helipads used frequently in the fire season. The Grumman S-2A air tanker is welcome and needed in the fire season and for the popular Father's Day Fly-in. See the annual events page for more information.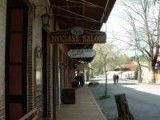 Columbia became a town of 4,000 to 5,000 in the 1850s, following the discovery of gold here by the Hildreth party March 27, 1850. The town collected enough signatures to be considered as California's state capitol but Sacramento won the vote. Gold shipments from this small area were estimated to total $87 million at 1860's prices. For more about gold discovery in the area see out rock hounding page in the recreation guide.
At an elevation of 2,143 (perhaps a few feet lower than before gold miners dug into the ground) there are no natural lakes or rivers in the immediate area. The seasonal ponds and gullys and expensive city water slowed the progress of gold miners. It took 7 years to bring cheaper water to the area. Because of the limited water supply, fire was a big threat. Twice, in 1854 and 1857, many of the town's buildings were destroyed. Columbia declined rapidly after the second fire in 1858. The population dipped to around 500 and the old buildings were abandoned but it never became a ghost town.
State Legislature finally recognized the opportunity to preserve a typical Gold Rush town as an example of one of the most colorful eras in American history, in 1945 and created Columbia State Historic Park.
Columbia Zip Code: 95310
US Post Office – 22628 Parrotts Ferry Road, Phone: 209-532-7557
Fire – Bigler & Jackson 209-532-3772
Schools – Columbia residents are in the Columbia Public School Elementary, a K-8 rural California public school district in Tuolumne County. Students in Columbia are also in the Sonora High School District. Details about the Columbia School District are here.