Dardanelle is located in the beautiful Sierra Nevada Mountains. It offers a resting point before the climb to the second-highest pass in the Sierra Nevada range, the Sonora Pass, at a lofty elevation of 9,628 feet. Dardanelle offers vista views of granite cliffs between tall alpine trees. The Stanislaus River rushes down the rocky terrain with plenty of fish for the summer RV and tent campers. Visit the camping section in the recreation guide.
Dardanelle is 51 miles East of Sonora, past Twain Harte, Pine Crest and Long Barn on Highway 108. Our Map of Dardanelle Southeast of the area is Emigrant Wilderness and below that Yosemite National Park. Emigrant Wilderness is wonderful to explore on horseback, for more about horseback riding in the Mother Lode visit the recreation guide.
Dardanelle's population is officially 20, that's right 20, because it is often below freezing during the summer nights and you have to love the annual 50 inches of precipitation 80% falling as snow. Get yourself a snow tractor and snow mobile because the pass is generally closed November through May!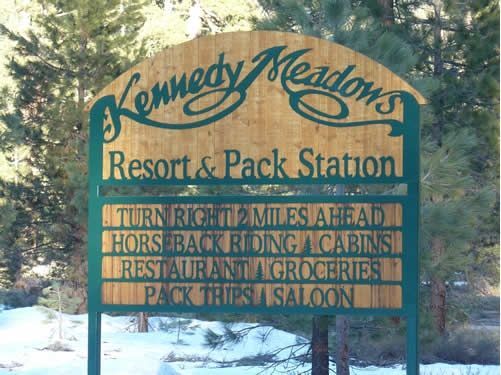 The small market at Dardanelles Resort established in 1923 offers a large variety of supplies. There is a backpackers bulletin board out in front. Unfortunately there are posts of missing hikers, it is a physically challenging region. East of Dardanelle is Kennedy Meadows Resort, management of the land was recently taken over by Tuolumne County.
To experience the pass in a heart bounding bike ride check out the biking information in the recreation section or visit the blog of someone who did at Bike the Sonora Pass. Don't forget to check out the Columns of the Giants. These columnar basalt cliffs differ from the mostly granite rock faces of Yosemite, and were carved away by glaciers.
History of Sonora Pass
The first documented immigrant traverse of Sonora Pass appears to have been in the late summer of 1852 by a wagon train known as the Clark-Skidmore Company. Sonora and Columbia merchants promoted the route to California-bound immigrants, who quickly found out how difficult a route it was.
With the discovery of deposits and development of silver and gold mines beginning in the 1860s, both sides of the pass pushed for development of the road. Surveying for a road through Sonora Pass began in 1863 and the road was in use by 1865.
Dardanelle Zip Code: 95314
US Post Office –
Dardanelle HWY 108
209 965-4205