Strawberry

There are three towns named Strawberry in California; one in El Dorado County, one in Marin County, and the quiet mountain town along highway 108 in Tuolumne County. Our Map of Strawberry
The population is 168 with many homes in the area that are vacation cabins. Strawberry is less than two miles from Pinecrest Lake and just beyond the town is the turn-off for Beardsly Reservoir (Beardsly lake) which is part of the Tri-Dam Project that is a partnership between the Oakdale Irrigation District and the South San Joaquin Irrigation District. The area offers lots of camping in the Stanislaus National Forest.
The Strawberry Music Festival, although located in Tuolumne County, took place at Camp Mather, which is past Groveland just outside Yosemite National Park and at the Westside Pavilion in Tuolumne operated by the Black Oak Casino Resort.
Nearby Pinecrest Lake is cradled in what was once a meadow, it is surrounded by granite outcroppings. Emigrants called the area Strawberry Flat because of the wild strawberries that grew there. The campground adjacent to the lake is under the white fir, cedar, and sugar pine trees. For more information look up Pinecrest in the destination guide.
Strawberry Zip Code: 95375
Schools –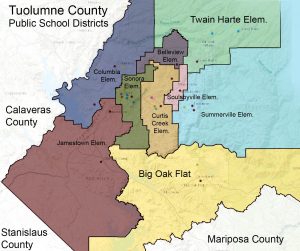 Strawberry is in the Twain Harte Elementary Public School District which extends all the way to the northern Tuolumne County line at the North Fork of the Stanislaus River. The district includes Twain Harte, Mi-Wuk Village, Long Barn, Pinecrest and Dardanelle. Although the area is huge it has fewer students than most of the other districts. Students in the Twain Harte District are in the Summerville High School District.