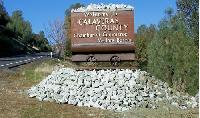 Calaveras County is home to 22 wineries, including Ironstone Vineyards which in 1998 completed an outdoor amphitheater that hosts music concerts, and other celebrations. Calaveras country fairgrounds hosts the Jumping Frog Jubilee and other smaller events.
The larger towns including Angels Camp, Copperopolis, San Andreas, and Murphys are mostly independent of each other because of geography. There are two main high schools Calaveras High School with 1,050 students and Bret Harte Union with 650 students.
To inspire wonder visit the massive Calaveras Big Trees. You can take a humbling walk around giant sequoias. Many outdoor activities like rafting, hiking and camping draw people from all over to the area. Bear Valley Ski area lies just over the Alpine-Calaveras county line on highway 4 to the East. New Melones Lake, on the southern border with Tuolumne County, is the largest reservoir in California, just down the road as is championship golfing at Greenhorn Creek and Saddle Creek. Visit the Recreation Guide for more to do in the area.
The PBS series 'Rob on the Road' premiered this Calaveras virtual tour on Monday May 29th.
Sonora
City of Sonora information
Soulsbyville
Soulsbyville details
West Point
West Point details
Wilseyville
Wilseyville details
Wallace
Wallace details
Tuolumne
Tuolumne details
Standard
Standard details
Twain Harte
Twain Harte details
Burson
Burson details
Campo Seco
Campo Seco details
Copperopolis
Copperopolis details
Douglas Flat
Douglas Flat details
Glencoe
Glencoe details
Hathaway Pines
Hathaway Pines details
Mokelumne Hill
Mokelumne Hill details
Mountain Ranch
Mountain Ranch details
Murphys
Murphys details
Rail Road Flat
Rail Road Flat details
San Andreas
San Andreas details
Sheep Ranch
Sheep Ranch details
Vallecito
Vallecito details
Valley Springs
Valley Springs details
Big Oak Flat
Big Oak Flat details
Chinese Camp
Chinese Camp details
Columbia
Columbia details
Dardanelle
Dardanelle details
Groveland
Groveland details
Jamestown
Jamestown details
Long Barn
Long Barn details
Pinecrest
Pinecrest details
Moccasin
Moccasin details
Mi-Wuk Village
Mi-Wuk Village details
Strawberry
Strawberry details
Calaveras County Communities