Big Oak Flat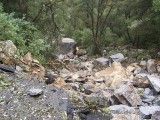 At an elevation of 2,838 feet, Big Oak Flat is a very low-density residential area with a gas station and a few shops at the top of Old and New Priest Grades along HWY 120 before Groveland. It is along the most direct route into Yosemite National Park from the San Francisco Bay Area, Sacramento and Northern California locations. The Big Oak Flat Yosemite entrance (27 miles beyond the town of Big Oak Flat) is named after Big Oak Flat Road which became HWY 120 and was the only way into Yosemite in the 1850s and 1860s.
Population estimates often group Big Oak Flat residents with Groveland but the 2020 U.S. census recorded 245 residents in the Big Oak Flat zip code: 95305.  Our Map of Big Oak Flat
New Priest Grade is the section of Highway 120 that climbs from Moccasin at about 910 feet to 2,450 feet over a distance of six miles. Old Priest Grade, the original route, is a narrower road and covers the same change in elevation over only 2.7 miles. It is common to see vehicles with smoking brakes descending the old grade.
During summer, temperatures can be 90-100F causing many vehicles to overheat climbing the old grade. Locals tell stories of car accidents where the vehicles left the path of Old Priest Grade and tumbled into the ravine between the two roads, Grizzly Gulch. They claim that the terrain is so difficult that, in a few cases, the cars and bodies were not retrieved.
The Big Oak Flat area was claimed by James Savage who discovered gold there in 1848.  The area was at first simply called Savage's Diggings. During the Gold Rush three lively camps mined millions of dollars worth of placer gold. Big Oak Flat had a huge oak tree landmark, Groveland, originally named Garrotte, and nearby Second Garrote were named for their the Spanish word for execution by strangulation as the method of punishment for crimes was often hanging. A few old buildings still stand but most, including the remains of the tree, were burned in 1863. Groveland changed its name in 1875 just after the tourism and freight route to Yosemite was completed in 1874.
Big Oak Flat Zip Code – 95305
US Post Office – 17850 Highway 120 Phone: 209-962-6231
School Info – Residents of Big Oak Flat are in the Big Oak Flat school district. All nine public elementary schools in Tuolumne County are separate districts except the Big Oak Flat School District to the east of the Jamestown District that includes the K-8 Tenaya Elementary School, Tioga High students in Groveland, and Don Pedro High School in La Grange. More Big Oak Flat school boundary details are here.