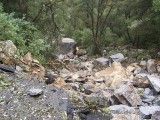 Big Oak Flat is an old mining town located adjacent to Groveland. Population estimates often group residents with Groveland but the 2000 U.S. census recorded 149 residents in the Big Oak Flat zip code: 95305.
Big Oak Flat is at the top of Old and New Priest Grades. New Priest Grade is the section of State Route 120 that climbs from Moccasin at about 910 feet to 2,450 feet over a distance of six miles. Old Priest Grade, is the original route, it is a narrower road and covers the same change in elevation over about 2.7 miles. It is common to see vehicles with smoking brakes descending the old grade.
During summer, temperatures can be 90-100F causing many vehicles to overheat climbing the old grade. Locals tell stories of car accidents where the vehicles left the path of Old Priest Grade and tumbled into Grizzly Gulch. They claim that the terrain is so difficult that, in a few cases, the cars and bodies were not retrieved.
At an elevation of 2,838 feet, Big Oak Flat is a quiet village with a gas station, stores, and limited accommodations. During the Gold Rush it was a lively camp with millions of dollars worth of placer gold to be found. A few old buildings still stand, but most were burned in 1863. A monument near the west end of town displays the burned pieces of the big oak tree that the town was named after.
History of Big Oak Flat
Originally, Groveland and nearby Big Oak Flat were called Savage's Diggings. James Savage discovered gold there in 1848. Savage's Diggings became Garrote (a Spanish word for a type of execution) in 1850 because the towns preferred method of justice was hanging, for various offenses including stealing.
Big Oak Flat Zip Code: 95305
US Post Office –
17850 Highway 120
209-962-6231