Pinecrest

Situated just above the foothills at 5,600 feet, the wildflowers don't come out here until mid-July. Pinecrest is just 30 miles east of Sonora on Highway 108. Our Map of Pinecrest The population is just 55 but there are many vacation cabins in the area.
Pinecrest Lake offers camping, swimming, and boating in the summer and also movies at Pinecrest Theater. The unique outdoor venue shows mostly children's films just after the sun goes down. Pinecrest has a little snow all winter long, winter activities include making snowmen and sledding after the lake has mostly drained. Dodge ridge is just up the hill, check on the ski reports for more information or visit the ski page in the destination guide for all the ski resorts in the area.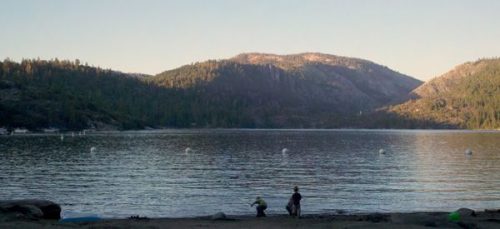 Pinecrest Lake is cradled in what was once a meadow surrounded by granite outcroppings. Emigrants called the area Strawberry Flat because of the wild strawberries that grew there. The campground adjacent to the lake is under the white fir, cedar, and sugar pine trees. For more information look up Pinecrest in the destination guide.
Pinecrest Lake is the last in a series of dams constructed on the South Fork of the Stanislaus River. In the beginning the purpose was to divert water via ditches and flumes to the mining claims in and around Columbia.
The present dam at Pinecrest, previously called Lower Strawberry Reservoir Dam, was built by Sierra and San Francisco Power Company for hydroelectric power, the water is managed by Tuolumne Utilities District (TUD).
The U.S. Forest Service's Summit Ranger District station, is a mile from Pinecrest Lake. You can visit them and get information about a little trail across the street that winds through a few bark teepees.
Pinecrest Zip Code – 95364
US Post Office – 400 Pinecrest Lake Road
209-965-3545
Schools –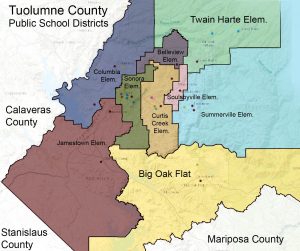 Pinecrest is in the Twain Harte Elementary Public School District which extends all the way to the northern Tuolumne County line at the North Fork of the Stanislaus River. The district includes Twain Harte, Mi-Wuk Village, Long Barn, Strawberry, and Dardanelle. Although the area is huge it has fewer students than most of the other districts. Students in the Twain Harte District are in the Summerville High School District.