Twain Harte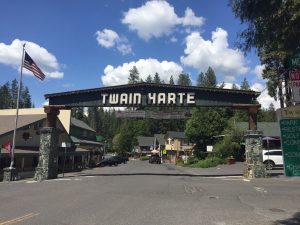 Twain Harte is one of the fastest growing areas in Tuolumne County. Updates about "The Rock" including Dam Repairs here and Water allocations for the Lake during the drought are here.
Since the close of World War II when it was summer retreat of a few hundred, the population has grown to 2,586. Twain Harte is a vacation, retirement and family oriented community. After a 2nd wildly successful Outhouse Race it seems the event will be a mainstay along with other annual craft shows and wine tastings. The annual "Concerts in the Pines" or "Movies Under the Stars" at Eproson Park starts each year in June. (Organized by the Twain Harte Area Chamber of Commerce)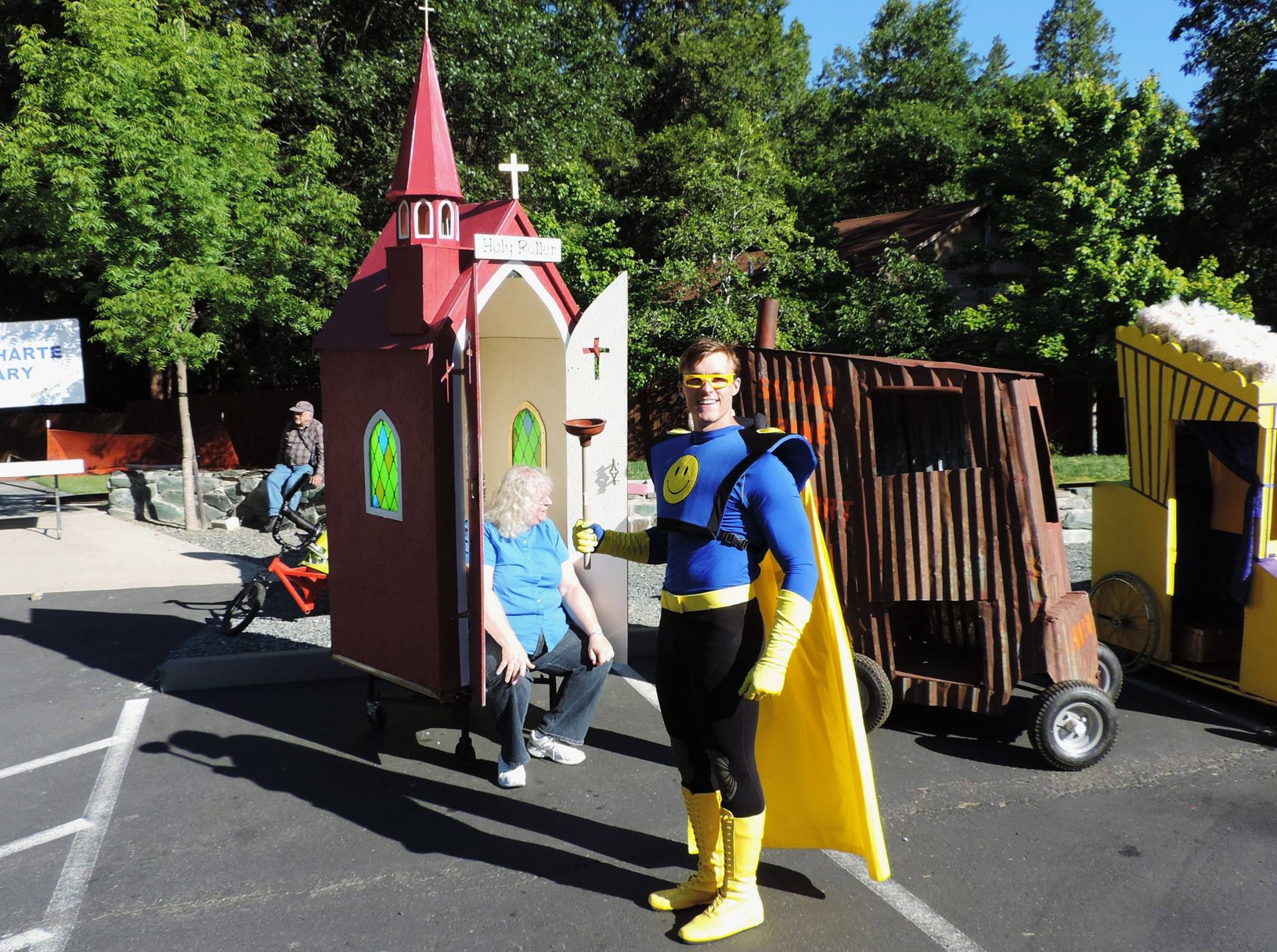 The elevation is 3,648 feet- they get some snow and ski tourists in cooler winters,  here is our map of Twain Harte Keep an eye on Happenings and Calendar sections for local activities.
Originally the Mi-Wuk Indians lived beside Twain Harte Lake. They built "oochums" made from tree limbs and bark. They also wove fine baskets from the willows that grew in the damp place.
In nearby in Columbia, Sonora, and Jamestown, the discovery of gold in 1849 brought non-native people to the foothills by the thousands. When the easy gold was exhausted, apple and pear orchards were planted; cattle ranches and later lumber mills began springing up around the Indian enclave at "The Rock". Twain Harte Dam next to "the Rock" had funding problems but was finished and dedicated on July 4, 1929. As part of the celebration, the Indians had their last Pow-Wow there.
Twain Harte came into its own when a road was constructed over Sonora Pass in 1861 between the bustling commercial town of Sonora and the very rich mining town of Aurora. Two toll gates were put in to defray expenses, one at Twain Harte and one at Sugar Pine. Keturah C. Wood subdivided the area in 1924 (there have been six more subdivisions) and he named the area after two famous Mother Lode authors, Mark Twain and Bret Harte.
Twain Harte Zip Code: 95383
US Post Office Twain Harte –
23051 Fuller Road
209-586-3342
Fire – P.O. Box 447
209-586-4800
Schools – 
Twain Harte area residents are in the Twain Harte Elementary Public School District which extends all the way to the northern Tuolumne County line at the North Fork of the Stanislaus River. It includes the off-grid community of Jupiter and all of the towns higher in elevation along the Highway 108 corridor like Mi-Wuk Village, Long Barn and even Strawberry, Pinecrest and Dardanelle. Cedar Ridge homes are in the neighboring Belleview District and homes off of Longway are mostly in the neighboring Soulsbyville District.  South of Twain Harte is the Summerville Elementary School District. Students in the Twain Harte District are in the Summerville High School District.