Mi-Wuk Village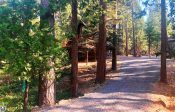 Five minutes east of Twain Harte is a little town called Mi-Wuk Village. Our Map of Mi-Wuk Village The village was established and promoted in the 50's as a please to enjoy recreation in the wilderness. The name derives from the natives who lived in the area, it is their word signifying "people." The Tuolumne band of Me-Wuk Indians community is centered in the Tuolumne (city) area by Black Oak Casino and Resort. Chicken Ranch Rancheria of Me-Wuk Indians is a tribe that manages a casino in the Jamestown area. Historic records and books about the Mi-Wuk and other native tribes are online at the yosemite library. You can also visit Black Oak Casino's tribal information page.
The Mi-Wuk Village and Pinecrest branches of the Tuolumne County Library were shut down in 2009 due to a lack of funding.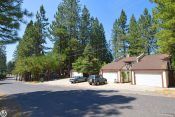 Since then community members were able to get the county to lease half of what was previously the Mi-Wuk Fire Station to the Mi-Wuk Area Homeowners Association for a community library supported by the Mi-Wuk Area Home Owners Association and High Country Friends of the Library.
The first documented immigrant traverse of Sonora Pass appears to have been in the late summer of 1852 by a wagon train known as the Clark-Skidmore Company. Sonora and Columbia merchants promoted the route to California-bound immigrants, who quickly found out how difficult a route it was.
With the discovery of deposits and development of silver and gold mines beginning in the 1860s, both sides of the pass pushed for development of the road. Surveying for a road through Sonora Pass began in 1863 and the road was in use by 1865. For more about other gold finds see the rock hounding section in the recreation guide.
Mi-Wuk Village Zip Code: 95346
US Post Office –
Mi-Wuk Village 20755 Chief Fuller Road
209-586-4500
Library
24411 Sierra Park Road in Mi-Wuk Village
209 586-6251