Sierra Nevada Logging Museum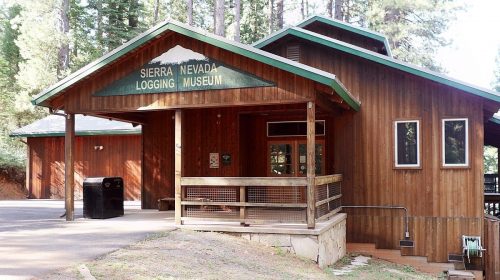 The Sierra Nevada Logging Museum tells the history of loggers and logging-related industries in the Sierra Nevada mountains of California – from the discovery of gold in 1848 to the present day.
The 2400-square foot building has working models of sawmills and logging camps, historic logging photos, dioramas illustrating the evolution of logging from the 1850s to the present day, and a large collection of logging tools. The museum also has a library/research room that is available for those seeking more information about our lumbering heritage.
The seven acres surrounding the building site are for recreational as well as educational use. An amphitheater, built with the support of the Arnold Rotary Club, is located among the trees. Picnic tables and barbecue pits have been installed along the lakefront. Interpretive trails guide visitors to impressive historic artifacts.
From the museum, easy walking trails lead to swimming, boating (no power boats) and fishing at White Pines Park and a long walk leads all the way around White Pines Lake, passing the site of the old Blagen Mill and its log pond. -adapted from the museum's wonderful blog
Hours: April – November Thursday – Saturday 12pm – 4pm
by appointment November 4th – Until the end of March
Sierra Nevada Logging Museum
2148 Dunbar Road
Arnold, CA 95223
(209) 795-6782
Website
If you want to stay in the Mother Lode take a look our list of places to stay.
Planning a wedding, conference or other event? Take a look our list of places to host your event.
Tell us about your experience at this place! Contact Us