Huge Hazard Tree Felled Across Highway 4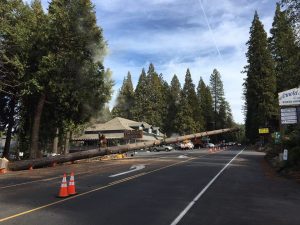 Caltrans tree crew fells giant ponderosa pine on Highway 4 Arnold Dec 28 2017

View Photos
Sonora, CA — One might call it a high-profile take down.
Yesterday, along Highway 4 in Arnold a faller from Camp Connell and an Altaville-based tree crew topped off and felled a 100-year-old bark-beetle killed ponderosa pine in a series of moves after Caltrans spotters noted its precarious condition and close proximity within the highway's strike zone.
The pictures Caltrans captured of the job, viewable in the image box slideshow, clearly reflects the vital work fraught with potential perils that tree crews are continuing to do across the Mother Lode — much of it away from ready public view — as public and private entities deal with the thousands of tree casualties of California's five-year drought and beetle infestations that have ensued.
For Caltrans part, District 10 spokesperson Warren Alford shares, "Our crews are always looking to determine where the most immediate need is and wanted to get [the identified hazard tree] out of there before it became a problem and to make sure that the public was safe."
Providing more details of the operation, which centered close to the Timberline Lodge, he recounts, "As you know it was right in the middle of town — and it is a holiday week — so we wanted to make sure we could clean it up quick."
Continuing, Alford adds, "We were actually able to do most of the work just closing one of the lanes and allowing traffic to use the center divide. So, we did not really stop traffic for most of the project — and then right when they decided to drop the tree we held up traffic for about ten minutes. The tree came down and they were able to skid it out…and get the roadway back open. It was a really quick operation and we had the equipment standing by." While it was originally thought that the tree could be salvaged for lumber, he confides that it turned out to be too deteriorated for that and was subsequently cut into firewood.
Alford says his agency has cruised the local highways under its management and marked what he describes as a fair amount of hazard trees as Caltrans continues towards establishing two new contracts that, beginning in the spring, will focus on systematically removing them. One, which covers Highways 4, 26, 88, 89 and 207 in Amador, Calaveras and Alpine counties, includes the removal of approximately 12,500 identified trees. The other covers Highways 108, 120 and 140 in Tuolumne and Mariposa counties that will target approximately 6,000 trees, 4,000 or so of which are located along Highway 108.
Until then, he maintains, "Our regular maintenance crew does cruise and when we see one like [the one felled] that needs to be done immediately, then we are able to take it out."