Casinos
Strike it rich in the Mother Lode
People used to come to Mother Lode to find gold to become rich. Today, people still come to strike it rich by testing their luck at our local casinos.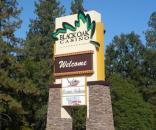 Black Oak Casino Resort is open 24 hours a day with over 1,000 slots, 24 table games, and seven restaurants & bars. Especially busy on Friday nights, the full list of entertainment at Willow Creek Lounge is here. Black Oak also offers a variety of restaurants, on the top floor people visit Seven Sisters for the ultimate fine dining experience. The popular 24-lane bowling center Black Oak Lanes is on the lower level of the casino. Bowling leagues there compete with the Sonora Family Bowl on 19 South Stewart Street. The Underground Arcade makes it a very nice indoor place to escape.
An annual event held nearby is the Acorn Festival put on by the Tuolumne Band of Me-Wuk Indians in September. For more annual events visit the recreation guide.
Is a small, 30,000 foot, bingo and casino in Jamestown. With 900 seats open for bingo on Thursday, Friday, Saturday nights, and Sunday days. They also have Paper Bills Slot Machines, Progressive SlotsPull Tabs, Video Game Machines, and Video Poker, a total of over 600 machines and nine tables. It is open Open 24 hours.
16929 Chicken Ranch Road Jamestown, California 95327-9779
Here, you're sure to find your game along with the most fun and friendly staff anywhere. Action happens around the clock with over 1,500 slots, 48 gaming tables, 15 Poker tables featuring Texas Hold 'Em, 7 restaurants, a conference center, and kids' arcade.
The Grand Oak Ballroom offers over 9,000 square feet of indoor meeting space, capable of hosting up to 500 event participants. WiFi Internet and the latest audiovisual equipment allow the Jackson Rancheria to host a variety of entertainment.
Whether world-class cuisine or a quick late night snack, there's something to tempt you here. From the high-end menus of Lone Wolf's Steakhouse to great buffets and casual meals at the Raging River, to a morning pick-me-up at the Coffee Café there's something to fit any taste. You can also stay overnight at the Rancheria, lodging gives you access to the a pool and hot tub. If you prefer to travel by RV, there is an RV park.
If you want to stay in the Mother Lode take a look our list of places to stay.
Planning a wedding, conference or other event? Take a look our list of places to host your event.
Tell us about your experience at this place! Contact Us