The top most viewed news stories of 2016 involve not only several fires but also many reports of missing persons. The overview of 2015 is here and the review of 2014 is here,
The year 2016 began with a winter storm and ended with a mild end of the year storm. In January our school delays page became very popular as parents and students checked to see if school was in session or delayed. The January 6 news story about the storm is here. 
We reported on many tragic vehicle accidents in 2016 in Tuolumne and Calavaras County. In Tuolumne the CHP recorded 13 fatalities in 10 fatal collisions. Last year there were also 10 fatal collisions but 17 total fatalities. In Calaveras the San Andreas CHP says there have been 9 fatalities and 8 fatal collisions, last year there were 10 fatalities from 10 collisions.

Our 6th most read news story was about a tragic plane crash in August that killed four people at Columbia airport. The names were released later in the news story here. Thankfully, in the two other plane crashes at Pine Mountain Lake Airport this year, injuries were very minor as reported here.
The CHP is still interested in information about a November 1st triple fatality on J59 near the Bond Flat Road intersection. News about the incident became our 5th most read news story. A white Acura MDX Crossover may have caused the accident, the CHP confirms they have followed up on leads but they are still seeking a gray or silver colored minivan, with black rims that may have witnessed the accident. An elderly man, mother, and daughter were killed in the crash while their sibling and another teen suffered serious injuries. Details about the investigation are here.
As reported here in September six of seventeen active missing persons cases at the Tuolumne County Sheriff's Office going back to 1991 were filed this year.
2016 Missing persons news stories:
In February 35-year-old Allen Christopher Martin of Modesto was reported as missing. He was last seen at Chicken Ranch Casino on February 9. Our April update on the case provides more information here. 
In June, 34-year-old Troy Galloway, a Crystal Falls resident, who had not been heard from since January, was officially reported as missing by family members. The news story is here.
Rosalyn Saxenmeier, 71, of San Mateo County walked away from the Silver Valley Campground near Lake Apline in Calaveras County on July 28. After an extensive search that did not reveal where she may have gone, Alpine County Sheriff department reports her DNA is on file with the Department of Justice.
55-year-old Christopher Craig Prows was last seen on August 9. There were few details provided by the Sonora Police as reported here.
Breck Phelps is a 68-year-old man who reportedly went fishing in October but did not return. His vehicle was found at 1.4 mile west of Donnell Vista Point. Details on the search are here.
2016 Found Missing Person News Stories:
Two missing mother lode teens were found by the San Jose Police in March as reported here.
In June two lost hikers and their dog were happy to be found in the Mi Wuk Ranger District near Pinecrest. As reported here they were from Modesto and shared details about their experience.
A 20-year-old Twain Harte man who was missing for five days along with his dog was rescued on July 18th. Details are here.
In July El Dorado County Sheriff's Office's reported 53-year-old Scott Kerfoot of Sacramento as missing. He was last seen in Modesto. On August 8 his truck was found blocking a forest road near West Point in Calaveras County. A search was conducted in Calaveras, two weeks later the El Dorado Officers report Kerfoot "Appeared out of the bushes, he walked up to a vehicle passing by, and told [an officer] he was disoriented, had been eating bugs and drinking out of the stream." The updated news report is here.
In August German tourists were found with major injuries the afternoon after being reported missing from Yosemite the previous evening. Their SUV went down an embankment along Highway 120, where the wreckage could not be seen from the roadway as reported here. 
In September two firefighters from Fullerton were located by search and rescue after getting lost in Yosemite. They were experienced backpackers, details are here.
At the end of September search and rescue also found a 17 and an 18-year-old from Tracy. The two ended up spending a night in the Rainbow Pools area in Groveland before they were found. Details are here. Sadly in July there was also drowning at Rainbow Pools this year. 11-year-old Natalie Garcia of Empire slipped and fell while crossing over the rocks above the falls. The news story is here.
Three hikers from San Jose and the Bay Area were found in the Emigrant Wilderness a day after they were expected back early in October. They refused assistance and were allowed to finish their hike, as detailed here.
Most recently, a 30-year-old woman from Sonora was reported missing since Dec. 10th but was later found safe.
In other most read non accident related news: two earthquakes on Feb. 16 were felt locally. Details about the quakes were published immediately here. On December 28th the United State Geological Survey (USGS), reported many quakes. Several, including one 5.7 quake just 80 miles away in Hawthorne, Nevada. Details were published here.
The gold nugget found in Jamestown has become our 8th most popular news story of the year. Oscar Espinoza found a gold nugget over a pound in size under a boulder in Woods Creek as detailed here. 
The other more read news stories involve an ongoing invistigation into a homicide. Stephanie McGeough was found dead in her apartment in September under suspicious circumstances. Her cause of death has not been released yet, she was last seen with her brother Sean McGeough, 53. He is still wanted for questioning. Her vehicle was located in Sparks, Nevada where reports suggest her brother may have been seen in the area. The details were reported here.
2016 Shootings:
Kenneth Aaron Livesey, 33, of Stockton was reportedly shot while trespassing at a home in Wilseyville and reportedly acting erratic. He died at the scene as reported here.
Two men from Richmond were involved in a robbery in Arnold. One was shot and is still recovering, the other faces various charges. The victim of the robbery, who has not been identified, confessed to firing the gun that injured one of the men. Details on the incident are here.
In other sad news three individuals' bodies were found and later identified in the area Elsey's Pond off Sullivan Creek near Mono Way:
In January 40-year-old Garland Williams was found near Sullivan creek, behind the former Mother Lode Motors off Mono Way in January. Details on the cause of death were released here.
In July Zachariah Hickie was found near an area where a vegetation fire occurred earlier in the day. The autopsy results released in November found a high alcohol level in his system and that he died of drowning.
In November 55-year-old Ernest Richard was found near Elsey's Pond off Mono Way near the Sonora Dodge dealership. The autopsy report states Richard's died of natural causes as reported here.
Unidentified remains found in New Melones was our 12th most popular news story this year. Unfortunately the forensic autopsy on the badly decomposed body revealed little about the woman. She is considered a crime victim due to the remains, which consisted of a pelvic girdle and upper legs, found wrapped in a covering and encircled by what appeared to be a tow-like chain with a hook at the end of it.
In July a boating incident left two women severely injured and Dean Payne, a 55 year-old from Copperopolis has been charged with Boating under the influence. Originally his bail was set at $15,000 but it was later increased as the severity of the women's injuries became known. The case is still pending in the court system as reported here.
2016 Major Fires: Half of our top ten news stories were breaking news stories reporting on local fires: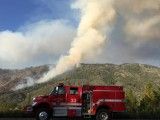 August 28 the Willow Fire was a fast moving vegetation fire in the San Andreas area that grew to 450 acres in just 3 hours. Mandatory Evacuations were in place for the Willow Valley subdivision. It was 100% contained on September 1st. Rene Ilene Hogan was charged with starting the fire and most recently failed to appear for a pretrial hearing. She currently has a warrant out for her arrest as reported here.
September 26th the Marshes Fire was fully contained at 1,080 acres near Moccasin. The fire closed Highway 49 and Mandatory Evacuations were in place for 15 homes in Moccasin Ranch Estates. It was ignited by a motorist that pulled over on Marshes Flat Road and drove across dry vegetation as reported here.
July 2 the Appaloosa Fire was only 310 acres but it caused 10,800 to go without electricity. The Appaloosa Fire was 100% contained on July 9th. An unidentified property owner started the fire while working on an electrical panel breaker box that led to the water supply for his marijuana plants. The wiring was not up to code, and he was charged with two misdemeanor citations as reported here. Three other small fires were also started by electrical equipment related to marijuana grows as detailed here.
Early Fire on August 29 burned 187 acres before it was fully contained, the fire was within the Rim Fire footprint as detailed here.