Two Earthquakes Felt In The Mother Lode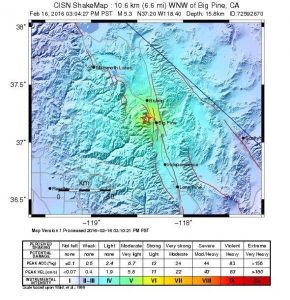 USGS Shake Map Image 2.9-magnitude quake near Big Pine, Feb. 16, 2016 3:04 p.m. PST

View Photos
Tuolumne County, CA — Did you feel it? The ground was felt shaking all the way from Bakersfield to the Mother Lode.
Several local residents have called Clarke Broadcasting reporting that they felt the ground move. We have heard from residents in Twain Harte down to Groveland, and a tremor was even felt here at our studios in downtown Sonora. Calling from Crystal Falls, Larry Duncan explains what he felt: "First the wall kind of shook from…a pressure wave, or something…a little bit of time passed, and then the whole house started shaking — it lasted about two, maybe three seconds."
According to the United State Geological Survey (USGS), four quakes hit in a matter of within 30 minutes, just south of Bishop. The first struck at 3:04 p.m. with an initial 4.8 estimated magnitude. An aftershock, measuring 2.9, was followed by two more estimated at 2.8 and 4.3 magnitude.