Search Suspended For Camper Near Bear Valley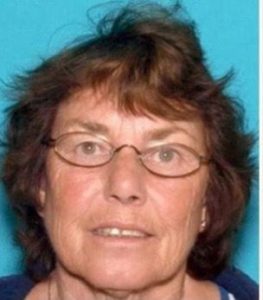 Rosalyn Saxenmeier

View Photos
Bear Valley, CA — While it will still be investigated as a missing person case, the Alpine County Sheriff's Office has called off the large scale search for missing camper Rosalyn Saxenmeier.
The 71-year-old San Mateo County resident was last seen on July 28 walking away from her campground near Lake Alpine, a couple of miles from the Bear Valley Village. 250 people from 27 state and federal agencies were assisting in the search, along with three helicopters, a fixed wing aircraft, and seven dog teams. The family has been notified that all of the assets have been released.
Alpine County Undersheriff Spencer Case says, "This is as extensive a search as I've ever seen. This might be the biggest search effort this year – maybe in a long time. But then you have to say OK, we've done what we needed to do and nothing has turned up."
The first days of the search covered areas of highest probability, such as drainage areas and water courses, and then gradually expanded to other areas.