Marshes Fire Reaches Full Containment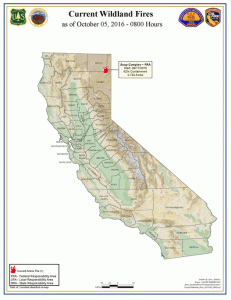 California Active Fire Map - 10/5/16

View Photos
Moccasin, CA — The Marshes Fire, which led to evacuations just over a week ago, is now fully contained at 1,080 acres.
CAL Fire officials declared full containment late last night. It ignited during the noon hour on September 26, and officials quickly declared a mandatory evacuation order for the roughly 15 homes in the Moccasin Ranch Estates. Much of the impacted area had not burned in over 30 years so there was a build-up of dead brush. Fire investigators determined that it was ignited by a motorist that pulled over on Marshes Flat Road and drove across dry vegetation.
CAL Fire reports that there is only now one active wildfire burning within the State Responsibility Area…the Soup Complex Fire up in Modoc County. While it is currently a quiet period for firefighters….October can historically be a busy period. Two of the 10 largest fires in California's recorded history ignited during October…the 273-thousand acre Cedar Fire in 2003 and the 197-thousand acre Witch Fire in 2007, both in San Diego County.