Investigation Continues Into Fatal Crash On J-59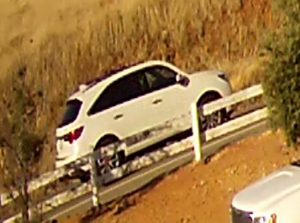 Acura MDX Crossover

View Photos
Sonora, CA — The CHP has been reviewing surveillance videos and officers believe they know what type of vehicle caused a triple fatal crash on October 21st.
The CHP is looking for tips from the public about who could have been driving the 2014-16 white Acura MDX crossover SUV. Officials would also like to hear from potential witnesses traveling in a gray or silver colored minivan, with black rims, which was spotted in the area at the time of the accident. Anyone that can assist in locating the drivers of these vehicles, or has any other pertinent information, should call the CHP Office at 209-984-3944.
The CHP believes the white Acura illegally passed a 2009 Toyota Camry over the double yellow lines. It caused 16-year-old Trista Hoffman to lose control of her oncoming 2002 Lexus RX 300, which crashed into the vehicle that was being passed, driven by Dorothy Eisemann. Trista Hoffman and her mother, 51-year-old Tina Hoffman, was killed, as was Dorothy Eisemann's husband, 72-year-old Rheinholt Eisemann. The crash occurred just after 4:20pm.