NTSB Report Details Fatal Columbia Plane Crash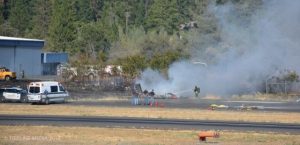 Columbia Plane Crash

View Photos
Columbia, CA — The National Traffic Safety Board has completed a preliminary report detailing the tragic crash on July 27 at the Columbia Airport.
The NTSB document notes that the Cessna 310B airplane crashed at 4:45pm. It reads, "Witnesses stated that they saw the airplane taxi onto the runway 17 for departure. During the initial climb, about 40 feet above ground level, the airplane stopped climbing and started drifting to the left. The witnesses said that the airplane then descended and impacted off the left side of the runway near the general aviation ramp and immediately burst into flames."
The report later adds, "The initial point of impact was located at the southwest corner of the airport parking ramp, just off the paved surface. From the initial point of impact, the airplane traveled on a 172 degree magnetic bearing about 250 feet before coming to rest at the north edge of the helicopter parking area. All major components of the airplane were located in the debris path. A majority of the airplane fuselage was consumed by the post-impact fire.
We reported previously that all four people inside were fatally injured. They are 43-year-old Daniel Allan Kruetzfeldt, 44-year-old Kristin Kay Kruetzfeldt, 69-year-old Claude Ernest Chandler and 71-year-old Mary Lynne Chandler.