Victim Of Deadly Calaveras Shooting ID'd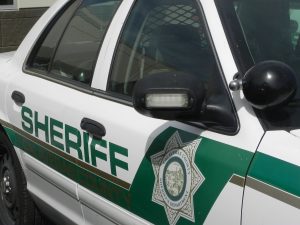 Calaveras County Sheriff

View Photos
San Andreas, CA – Calaveras County sheriff's officials have released the name of the man killed outside a home in Wilseyville, apparently by a resident's single gunshot.
As reported here, shortly after 5 a.m. Friday morning deputies were dispatched to a home on the 2900 block of Oak Haven Lane. Allegedly a man who allegedly refused to leave the property confronted the residents outside the home and was mortally wounded by one of them.
Today Capt. Jim Macedo identifies the deceased man as Kenneth Aaron Livesey, 33, of Stockton. Providing more details about the incident, Capt. Macedo shares, "The person that fired the weapon was reporting that they were in fear for the safety of another family member and we have not made any arrests in the case — but we have identified the shooter and we have taken statements from individuals that were involved."
Declining to provide the shooter's name, the captain points out that paperwork is still being prepared for submission to the District Attorney's Office in order to determine if the shooting was justified or if charges should be brought. He adds, "I know that the deputies that were onscene did provide first aid to the victim, who unfortunately…did not survive."
The Shooter Allegedly Did Not Know The Shooting Victim
While it is also too early to do more than ponder a motive, he indicates that, according to interviews with investigators, the shooter and shooting victim did not know each other. The captain says, according to the shooter's statement, "The individual that fired the weapon had a family member with him at the time that the shooting victim showed up at the residence. According to the person who fired the shot — and the family member — the shooting victim was acting strangely and his behavior caused the shooter to be concerned for the other family member…and that is when the shot was fired."
According to investigators' current information Capt. Macedo states, "We don't have a great timeline how he got from Stockton to Amador County but we were informed he was with some associates in Amador County and ended up in Calaveras County — but we don't know why he ended up at the home or property of the person that ended up shooting him."
Too, he shares, "There was concern that the individual that was shot may have been under the influence of something…based upon his behavior." An autopsy report is not yet available, according to the Coroner's Office; toxicology results will likely take a few weeks.
Capt. Macedo additionally states that the sheriff's office met on Monday with some of Livesey's family members to share what is known at this point about the case and what evidence statements were made.