Suspicious Death Victim's Brother Sought For Questioning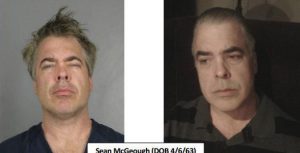 Sean McGeough, sought in connection with the case of the alleged suspicious death of sister Stephanie McGeough

View Photos
San Andreas, CA — Sheriff's officials, who have recovered a missing vehicle belonging to a woman recently found deceased in her apartment, also state they are now seeking her brother in connection with the case.
Last week, as reported here, after notifying next of kin, the Calaveras County Coroner's Office identified the deceased woman as Stephanie McGeough, 54, of San Andreas. Sheriff's officials continue to investigate the case under that assumption while awaiting a Dept. of Justice confirmation and pathology report results.
McGeough had resided at Creekside Apartments where the body was discovered. Law officials alerted the public to be on the lookout for a silver 2004 Chevrolet Tahoe with the California license plate 7NUG011, registered to her, additionally stating that the investigation was being investigated as a homicide due to surrounding suspicious circumstances.
Today, Sgt. Anthony Eberhardt tells Clarke Broadcasting that the woman's vehicle, recovered in the Sparks-Reno, Nevada area is currently in the possession of the sheriff's office. He shares that Sean McGeough, 53, who is the brother of the victim, was last to be seen with her and may have also been sighted in Sparks-Reno environs.
As they actively seek him for questioning, law enforcement officials are requesting the public's help in locating him. He is described as gray-haired with dark eyebrows; six-feet, two inches in height; weighing 230 to 250 pounds. (To view photos of him click in the left image box.) Before his arrival in San Andreas, sheriff's officials report that McGeough had been living among the transient-homeless community in San Diego.
Sgt. Eberhardt emphasizes, "Please do not approach or attempt to contact Sean McGeough but if you see him or know of his whereabouts, call the Calaveras County Sheriff's Office at 209 754-6500. The Calaveras County Sheriff's Office also has an anonymous tip line at 754-6030."