Details Emerge Of 'Jane Doe' Remains Found In New Melones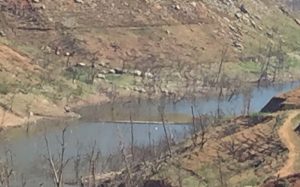 Closer View of Bridge Submerged In New Melones

View Photos
San Andreas, CA — Some autopsy results are in, months after locals — prospecting for gold in last fall's dead pool levels of New Melones reservoir — discovered human remains that hinted of a suspicious death.
As reported here back in January, a forensic autopsy was ordered on the badly decomposed body recovered the previous October from the mud underneath the Parrotts Ferry bridge. In recent weeks, some of the details from the examination were being internally discussed by local law enforcement officials and dispersed to other agencies.
On Thursday Calaveras County Deputy Coroner Keith Rosa was able to share part of a biological profile that has emerged of a confirmed "Jane Doe," almost certainly a crime victim.
New Melones 'Jane Doe': Not Tall, Possibly Petite
Although, off the record, it was always thought that the remains might be of a female, due to underwear remnants that were recovered with them, Rosa states that the wide sub-pubic angle in the pubic bone were among the gender determinants made in the profile.
Other findings show that the deceased woman is thought to have been between the ages of 25 and 45 and possibly ranging somewhere from 4'9″ to 5'4″ in height. Her remains, which consisted of a pelvic girdle and upper legs, were found wrapped in a covering and encircled by what appeared to be a tow-like chain with a hook at the end of it. There appeared to be normal separation of the bones, due to decomposition and no cuts or other marks telegraphing sustained injuries.
However, due to the decomposing effects of fresh water, the report stated the woman had been submerged for an indeterminate period; anywhere from 18 months to much longer. Reportedly, DNA extracted from the femur bones did not result in a DNA database hit, according to Sheriff Rick DiBasilio. He says it is not a surprising result since the database has no records for members of the public who have no previous arrests or other circumstances where they provided DNA.
A Russian Mafia Tie?
The chain, which certainly points to suspicious circumstances, is not dissimilar to the modus operandi used by members of the Russian mafia who, several years ago, dumped several bodies of victims from southern California into Melones. As reported here, back in March of 2002 the FBI recovered the fifth of five sets of remains it discovered after a search of the reservoir.
Investigators, while certainly checking into any possible connection, have also circulated information to surrounding counties. Sheriff DiBasilio notes that in the handful of known missing persons' cases in Calaveras all are male. He adds, "What is going to happen with this [Jane Doe] person, is that [the investigators] will send out a flyer throughout the United States that says, 'hey, we have located a potential female subject, between 4'8″ and 5'5″ potentially somewhere between this poundage, if you are missing somebody, call us'."
For missing persons cases such as this tragic one the sheriff suggests that those whose DNA is not already on file consider taking and storing away personal samples along with those of their children. It is a simple procedure, as he explains: "You can take a typical Q-tip cotton swab…swab the inside of your cheek, put it into a ziplock bag…and put it in the freezer." He emphasizes making sure to record the DNA stash somewhere in writing and by letting family members know.