Missing Teens Located Near Rainbow Pools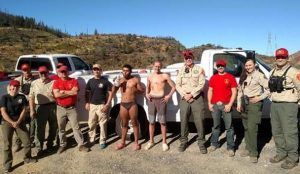 Teens Rescued In Groveland

View Photos
Groveland, CA — Two teenagers were located by the Tuolumne County Sheriff's Office Search and Rescue Team over the weekend after getting lost swimming in Rainbow Pools in Groveland.
18-year-old Bradley Perrault and 17-Year-old Alexander Lopez, both from Tracy, went missing Saturday evening.
They, and a third friend, parked their vehicle late Saturday afternoon at the Hetchy Hetchy access road off Rainbow Pools Road. They swam in various pools, eventually going down towards a waterfall downstream near end of Hetch Hetchy Road. Perrault and Lopez climbed down the waterfall to a lower pool, while the third friend stayed at the top, due to fears he would not be able to climb back up. The third friend could see the two others but could not verbally communicate with them due to the roaring waters.
At nightfall, the third friend could not see the others, and became concerned, so he went back to the vehicle to call for help. The Search and Rescue Team repelled to the bottom but could not locate the missing teens. The search continued through the night, with assistance from a CHP H24 helicopter.
Perrault and Lopez were located on Sunday morning, scratched up, but otherwise in good condition. The Sheriff's Office learned that they could not get themselves out of the pools and had continued down the river. They became separated and eventually climbed up a very steep canyon to the roadway. The Sheriff's Office reports the teens were very lucky they did not slip as they were wearing just swimsuits and Crocs sandals, and had no other emergency supplies. They were located walking along a nearby road.